I admit it: when started learning about DnD, I wondered what the fascination with dice was. But after becoming inspired by my father's ideas- and later my friends- I came to appreciate just how important dice are. For me, dice in D&D aren't just a gameplay essential- but a way to display your creativity, and imagination, and make the game more interesting.
The challenge? Finding a place to buy great D&D dice. I knew that Amazon sold some, but I didn't want to rely on a random listing. That's why coming across Skullsplitter dice is a gamechanger.
Glow in the dark dice, glitter decides and more precise metal dice to me show a pattern of how much creativity and thought goes into Skullsplitter dice. Here's my Skullsplitter Dice Review – and your guide to the best sets.
Bottom Line Up Front Summary: Skullsplitter dice offer incredible variety. Whether you're looking for a random dice bag, one based on class, or even glow-in-the-dark dice, there's no shortage of options. Skullsplitter understands the essentials for a great D&D game, and these dice will inspire you with ideas for your next game.
You can buy Skullsplitter dice from the home website or through outlets like Walmart, Amazon, Sears, and more. The bad news? A lot of things are out of stock right now, so you may have to place yourself on a waiting list for some of these dice.
If I had to recommend just one set of Skullsplitter dice, it would be the Kickstarter Dice Set. Not only is this set in stock most of the time, but it gives you everything you need to start and enjoy a game of Dungeons and Dragons. You get the key types of dice you need, with a colorful pattern, not to mention for under $20.
My Top Picks
DnD Dice 101: What You Need and Why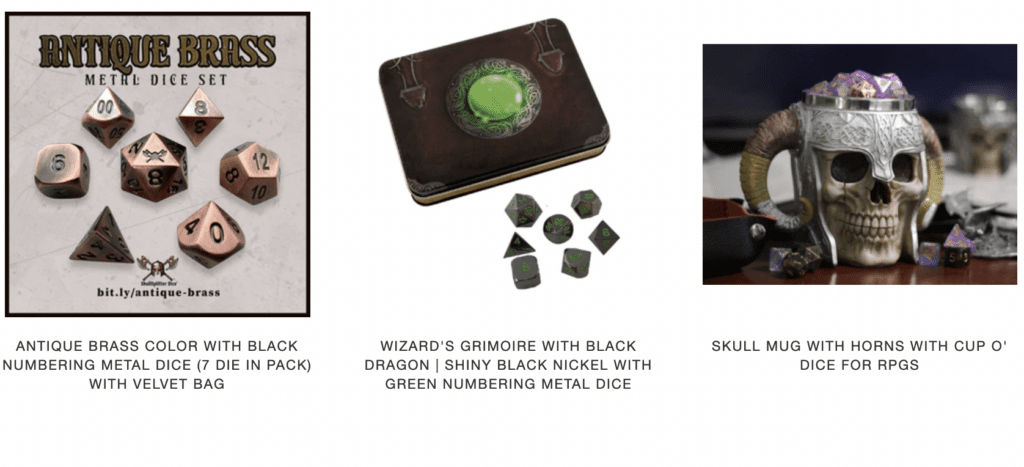 If you've played Dungeons and Dragons for years, feel free to skip this section. But in case I'm talking with a beginner, I need to give you a quick overview of the different types of dice in D&D and what they do for your gameplay. That way, you'll be sure to buy everything you need when you're shopping SkullSpitter dices.
What Dice Do
Think of dice as your main tool for navigating your game. Dice are oh-so-important for combat, determining spell and weapon damage, and of course, are how probability and chance factors into a campaign. You must have dice, and there are 7 main dice that most players use.
Types of DnD Dice
Here's a heads up: there are 7 main types of dice (though trust me when I say players get innovative and may even make up their own rules). It may be confusing at first, but the learning curve is pretty quick. The chart below shows you all the dice you need and their role in a traditional game of Dungeons and Dragons:
Name
What It's Used For

D4

Damage to Small Weapons

D6

Damage for Spells, Weapons

D8

Damage (For One Hand) For Weapons

D10

Damage for Specialized Spells, Weapons

D12

Damage Inflicted on Enemy

D20

Most Important

Battle/ Attack Order, Attack Accuracy
You'll get more and more used to using all of these dice for Dungeons and Dragons as you play more. If you feel lost, the DnD Basic Rules PDF is a great resource to get started with.
As a pro tip, I recommend having an extra set of dice (at least) on hand. That's helpful for combat and if you tend to lose things now and then (I am guilty!). Select dice of different colors so that it's easiest to understand what dice are being used for what!
Skullsplitter Overview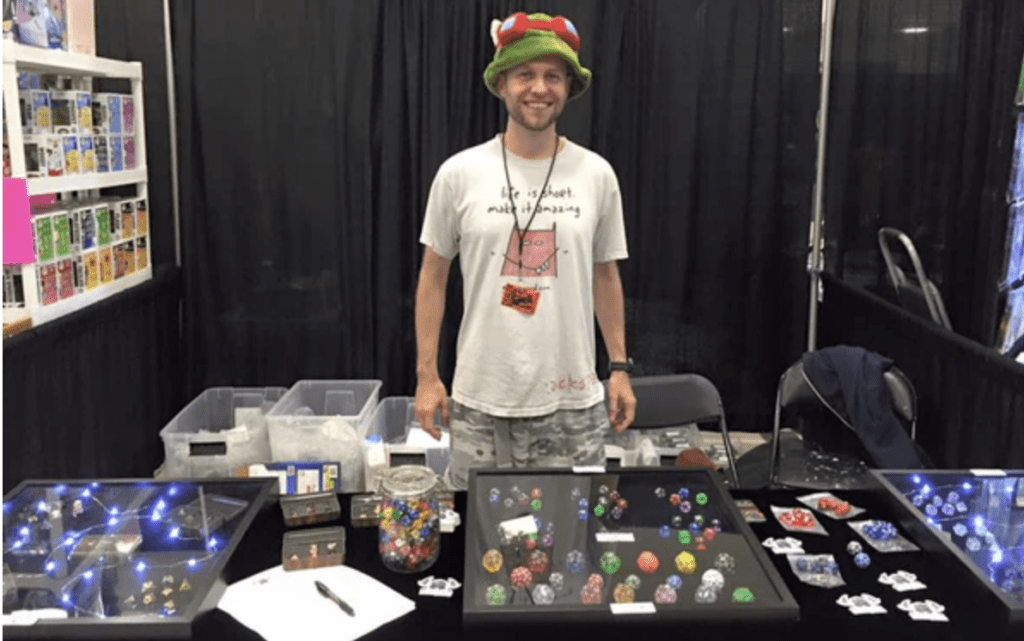 With that out of the way, I was stoked to find Skullsplitter. This company's entire purpose is to create DnD dice and accessories, and it shows with their vast collection and creative options. While you can find classic full dice, they also offer some surprising options, both online and in stores. Here's what I love, what I'm more hesitant about, and my tips for finding the best Skullsplitter dice!
discount code, amazon, art, bag, pattern, 5e, box, blocks, random dice, half dice vs full dice, sale, forge expansion, gold, game rules, history, instructions, ideas, Kickstarter, kit, loot luck, map, magician, online, outcomes, pattern, probability, probability calculator, set, tray, roller, tower, what do they do, amethyst, the best place to buy, artisan, companies, display, diamond, dragon, different, explanation, expensive, extra large, full set, green, glow, jade.
About the Company
Skullsplitter Dice is based in Saint Petersburg, Florida, and is one of the most respected makers of DnD dice. I love that there's passion and expertise behind their products, too. The founder has been playing different role-playing since 1990.
Even though it's a niche company, they have estimated revenue of just shy of 5 million dollars and have about 25 employees. The downside is that I had to search a bit for some of this information- I'd love to learn a bit more about the company and have that information on their main website.
But if aren't sure how to feel about buying from them, external customer reviews should give you some confidence. On review.io, an independent review site, over 1,600 consumers awarded the quality of Skullsplitter Dice and service an incredible 4.9 out of 5 stars. Based on that and what I've seen, I think that it's one of the best companies to buy from.
Retailers, Pricing, and Other Buying Info
Another reason why I like Skullsplitter Dice is that there are a few ways to buy dice sets- and the prices are reasonable.
Where to Buy/ Shop
You can buy Skullsplitter dice from:
Occasionally, I'll see them being sold or resold through other outlets, like Kmart, Etsy, eBay, and Kickstarter. My caution: make sure it's genuine Skullsplitter Dice, and don't assume you're getting a bargain.
I do have some bad news: right now, a lot of things are out of stock- probably from supply chain issues. Because of this, you may have to opt to be notified when items are back in stock. This is true for their dice on their website and elsewhere. There are a few items in stock, but it's a fluctuating situation.
Pricing
You're looking at anywhere from $5 to $40 for dice sets, and most of them are around $20 or so. While that pricing depends on the type of dice, it's pretty easy to find something within even a tight budget. I don't see a substantial discount from one website to another, so shop where you feel most comfortable.
Types of Dice & Sets
First thing you should know? Skullsplitter Dice doesn't just sell dice for D&D but all roleplaying games. I even found a 100-sided dice, which was interesting. Assuming you want to stick to the dice you'll need, though, you'll have the option for mostly dice sets and individual dice. The filters help find what you want.
Dice Collections
$5 dice sets, dice bundles, and dice sets by class (druid, barbarian,m cleric, fighter, monk paladin, ranger, sorcerer, warlock, and wizard) are great ways to start looking.
Dice Colors
I can't complain about the shortage of colors! You can get dice and dice sets in these great colors: yellow, black, blue, gold, green, orange, purple, pink, red, and white. I recommend buying at least two colors- it can come in handy when you have double rolls during battles.
Types of Dice
Here's where things get interesting. Skullsplitter carries glow-in-the-dark dice, glitter dice, and blind bags. That makes them stand out from other brands- but the highlight is probably metal dice.
Dice Quality and Buying Tips
So with all these options, what should you buy? That depends on your budget and needs.
Metal Dice Or Not?
My top pick is their collection of metal dice sets if you're moist and worried about precision and probability. Why? Metal dice don't have as many bubbles or inclusions as your average dice, which means it's more likely to roll fairly and not be biased towards landing on certain numbers.
The downside is that metal dice will damage your table if you don't buy a tray, and they're also heavier and more expensive. Still, they're the best quality you can buy. If you don't want to damage your table and save some money- maybe conventional dice are a better way to go.
Their other dice are mostly made out of acrylic, which is a good choice for dice. The downside is that acrylic won't hold its shine quite as well. I do like that all dice are inspected for quality before being shipped out.
Read also: How to Find the Best DnD Dice Trays.
On A Budget?
You can get a set of all the dice you need for just $5 with their collection of $5 dice sets. The downside? They tend to go out of stock, and you may need to wait a while. They're also all translucent dice, and not quite as high quality as other options.
Playing at Night?
If you love playing Dungeons & Dragons into the night, and you want a spectacular, fantastical accessory, an extra set of glow-in-the-dark dice is an interesting option. I wouldn't use these for every game or all the time, but I'd consider them as a unique D&D gift for fans who already have a set of staple dice.
My Favorite Skullsplitter Dice/ Sets
Skullsplitter Dice has my attention- but even with my buying tips, I wanted to point out a few sets that caught my attention and stood out from the rest- either for quality, value, or unique features.
In no particular order, here are some of the best dice sets I'd recommend from Skullsplitter for DnD fans of all kinds.
Kickstarter Dice – 15 Piece Set
If you have no idea where to start with Dnd dice, this 15-piece set is my favorite idea. The emerald green, blue and amethyst marbled tones bring some magic to the game. You're getting the essential dice you need to start a game, plus extras if you lose any.
At this price point, it might be a good idea to double up and buy a second set in a different color. I love how the colors align with those often assigned to different classes. Buy Here.
Pros
Marbled Colors

Essential Dice

Great Starter Kit
Cons
Case Not Included

Not As Precise As Metal
Premium Mystery Metal Dice Set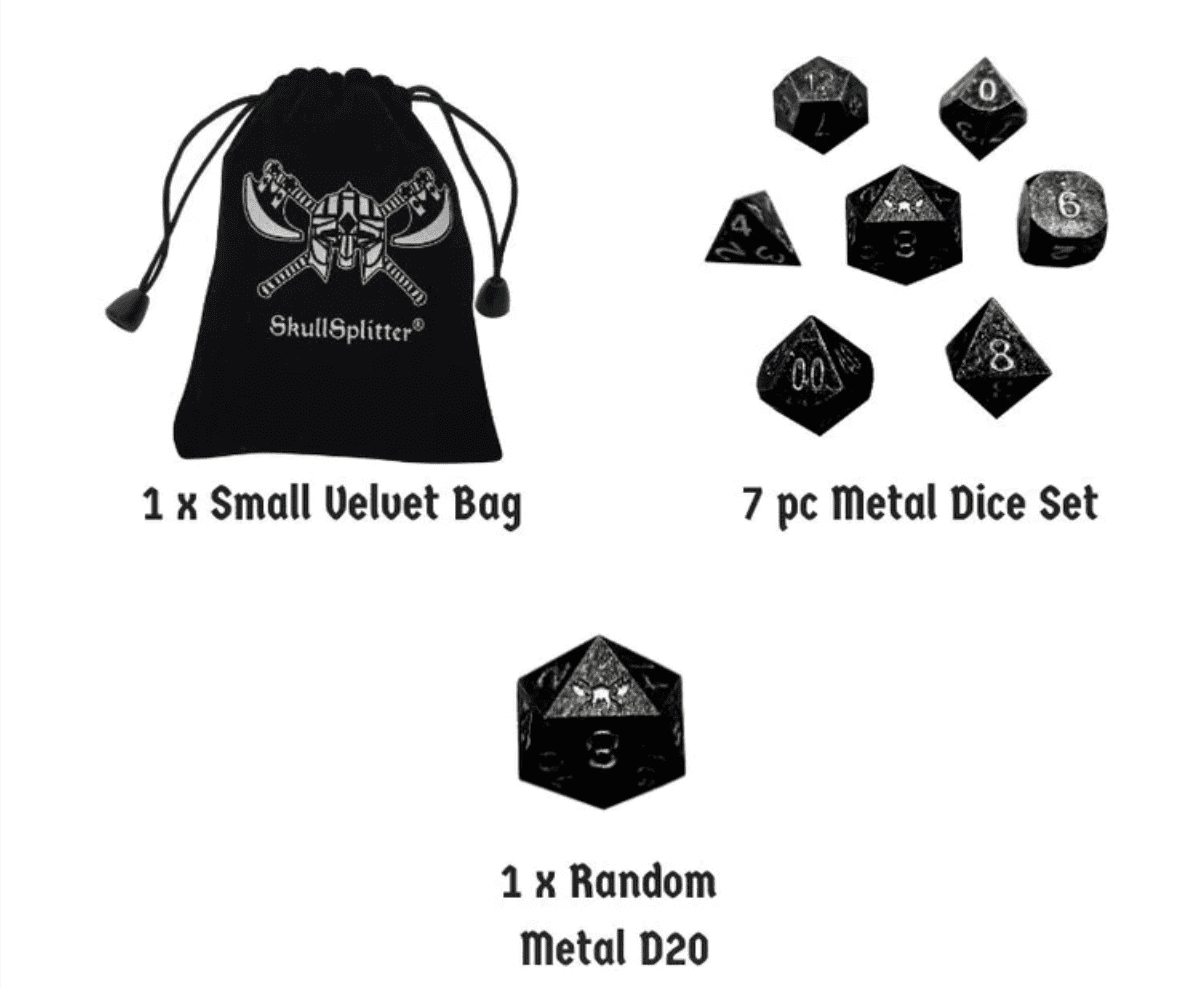 If you want a precise roll, then metal dice are the way to go. I like the price and value of this premium metal dice set, which will provide the fairest odds possible. The 7-piece set comes with essential DnD dice, plus a mystery D20.
I appreciate the small velvet bag, which is a must because metal dice can damage surfaces. You can purchase it once or even sign up for a subscription if you always find yourself scrambling for more dice. Buy Here.
Pros
Precise Rolls
Premium Quality
Includes Carrying Bag
Cons
Metal Can Damage Surfaces

Metal is Heavier
Purple/Blue Glow in the Dark Polyhedral Dice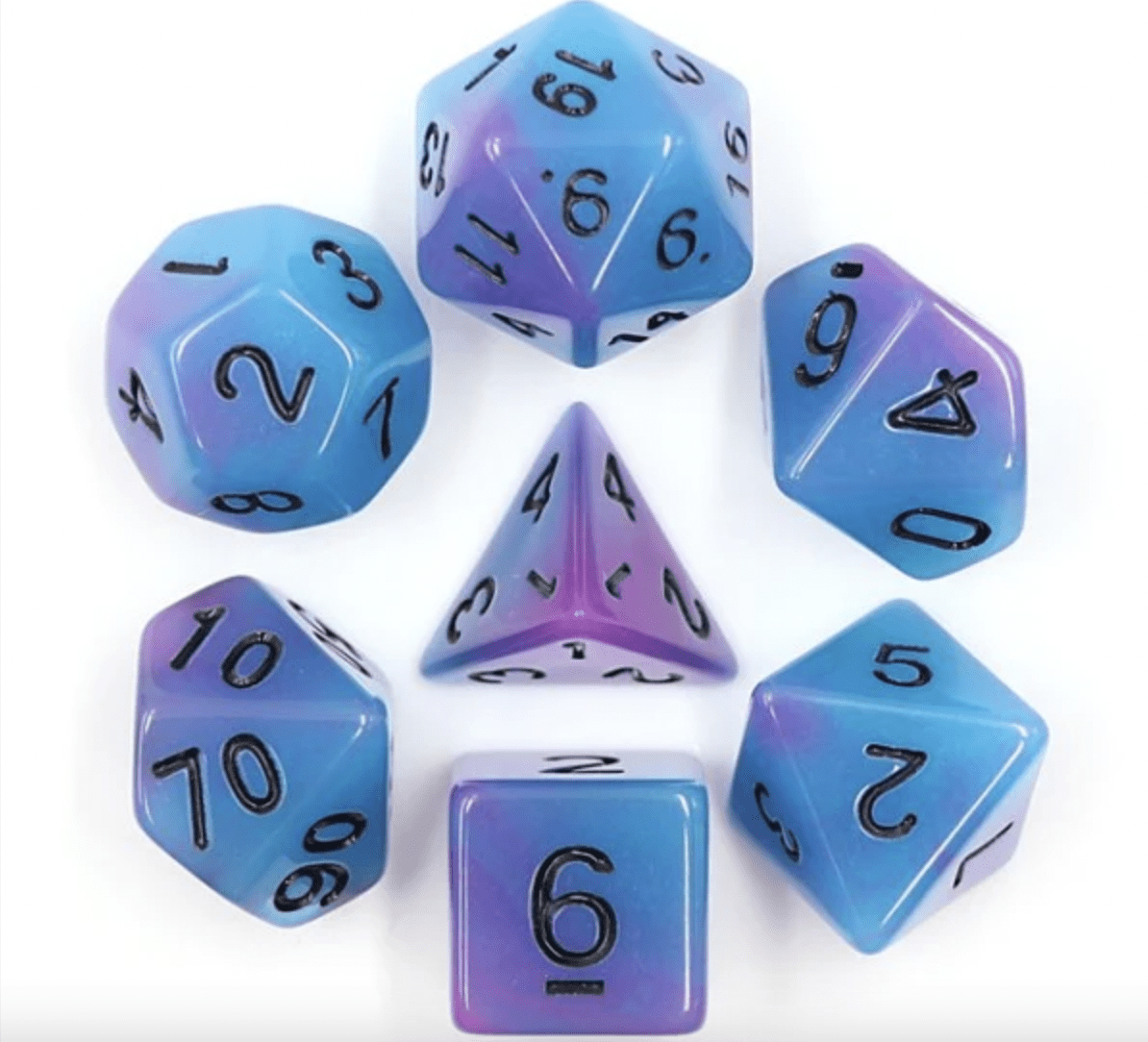 Do I think that everyone needs a set of glow-in-the-dark dice? Probably not. But are glow-in-the-dark dice a lot of fun? I sure think so. A game played into the evening and at night feels extra magical with these luminescent dice.
This set gives you the same quality as other Skullsplitter dice, with large, well-printed numbers that make them also practical to use. Plus, the colors are pretty fantastic. Buy Here.
Pros
Glow in The Dark
Large Print Numbers
Essential Dice
Cons
You May Need to Wait

Must Be Dark Enough For Full Effect
Gray Translucent Silver Glitter RPG Set of Dice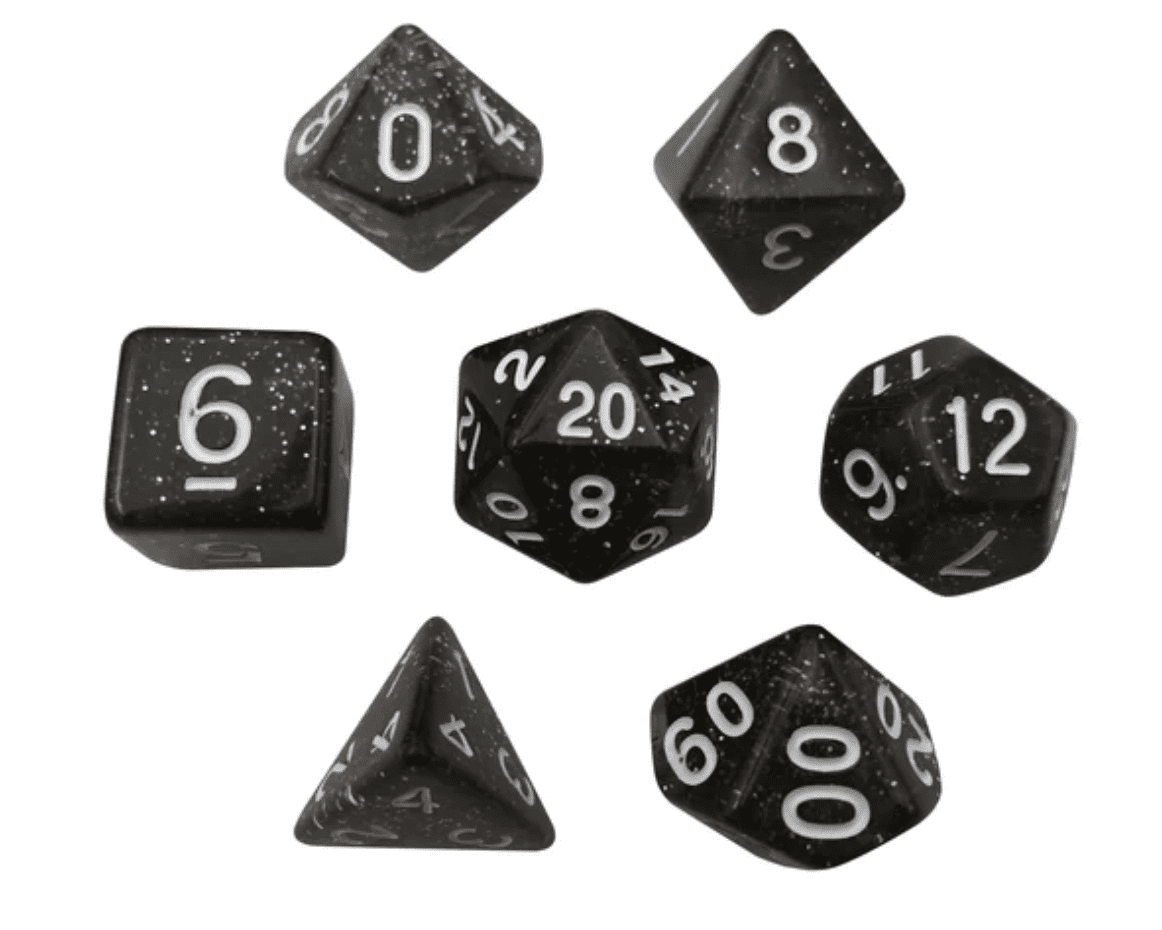 If you like the idea of unique dice for your DnD collection but don't want to go the glow-in-the-dark route, consider these translucent sets of dice. The smoky gray color is accented with just a bit of shimmer.
I appreciate the large numbers and the stark white contrast against the black. This is a still-practical set of dice- but unique. Buy Here.
Pros
Unique Glitter Accent
Clear Printing
Great Price
Cons
No Bag Included
Not as Precise as Metal
SkullSplitter Annual Dice Subscription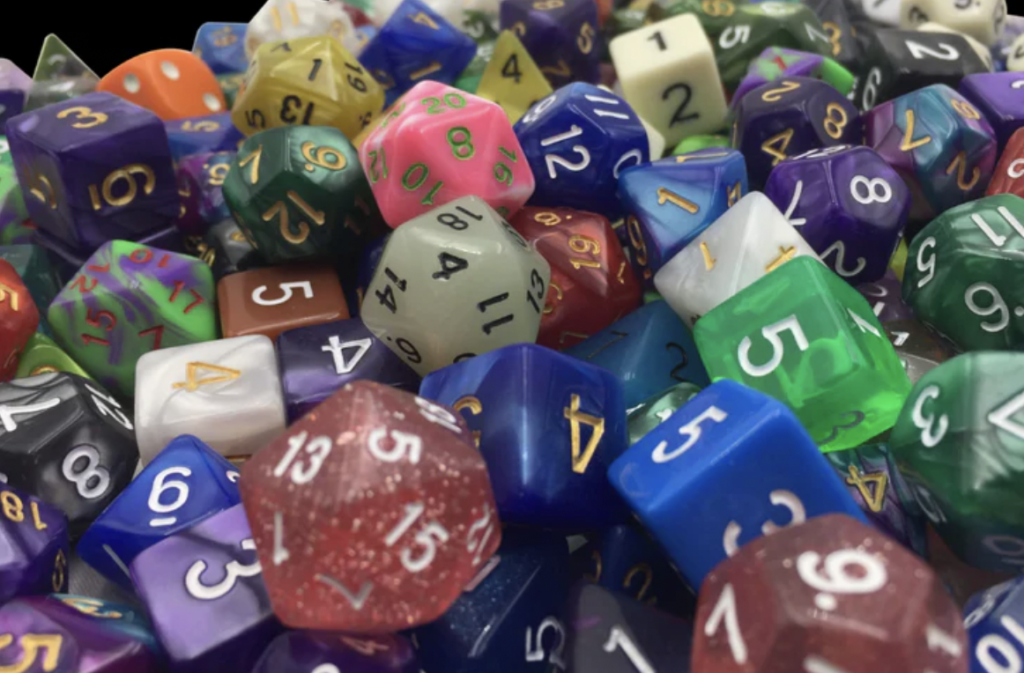 I don't think this is the most practical solution for everyone- but if you love collecting dice or you want to surprise someone with a generous gift, it is awesome to see Skullsplitter Dice offer a subscription.
This subscription ships two unique dice set every month with both essential and mystery pieces. Even better, they keep track of what you already have so you won't have to worry about receiving duplicates. Subscribe Here.
Pros
Convenient
Different Dice Every Time
Great Variety
Cons
Sign Up For Full Year

May be More Than You Need
Frequently Asked Questions
Question: Why do D&D players have so many dice?
Answer: Different dice in D&D have special gameplay functions. But chances are you've seen someone that has more dice than you think they could ever use. Dice are fun to collect for D&D and some even feature unique designs that add some flare to your game. There's a practical reason too.
If you have more than one D&D campaign going on at the same time, it's important to have separate dice for different games. But it's also handled during battles. Distinct sets of dice make it far less confusing during combat- where several dice rolls can happen at the same time. Finally, if you're anything like me, sometimes things get lost, and it doesn't hurt to have an extra set on hand.
Question: Are handmade dice balanced?
Answer: Handmade dice are popular, especially in the D&D community. With hot sellers on websites like Etsy, it may be tempting to reach for a unique set of handmade dice. But you do need to be careful because not all handmade dice are balanced. It can happen in both handmade and mass manufactured dice, but bubble formation can cause a die to favor landing on certain numbers. If you're worried about bubbles/ inclusions, metal dice are your safest bet.
Question: Are precision dice worth it?
Answer: Precision dice are carefully weighted on every side and manufactured under stricter conditions than your average dice. They are not perfect- no dice are- but they must be within 1/ 10,000 of inch dimensions for the most precise measurements possible. The purpose: make the dice as balanced as possible, with next to no bias for landing on any number.
It's a painstaking process to make precision dice, and it must be done using cellulose acetate. Certainly, anyone worried about any bias in their dice might seek a set of precision dice. However, it's challenging to find a set of precision dice for D&D. Make sure the company is reputable too- and it's truly precision dice.
Question: What are DND dice called?
Answer: The most well-known DND dice is the D20 (20-sided), which is going to be the most important and most frequently used dice in the game. But there are other dice you need, too. The other main dice include D12 (for battle), D10 (spells or weapons damage), D8, D6, and D4.
By having a full set of D&D dice, you'll be able to play fully. All dice are named according to the number of sides they have, and all have coordinating but slightly different functions.
Final Thoughts
Skullsplitter dice include a collection of unique and practical dice sets for any DnD game. From frosted dice sets to glitter and glow-in-the-dark dice, I'm impressed with the sheer imagination and variety this company offers.
Whether you need a staple D20 or you're looking for a full set, I have little doubt that you'll find it. And for the more adventurous, blind bags add that extra fun. check out their other accessories, which include mugs, dice bags, stickers, and even t-shirts. If you don't need any of that yourself, it could be a great D&D gift idea.
Final Recommendations & Alternatives
Skullsplitter may have a great collection of D&D dice, but I know it's hard to choose. As much as I like the variety here, I have to recommend the Kickstarter Dice Set.
While I like the precision of metal dice, this set is best for beginners. It's made with care and bright colors to help it stand out from other sets. Plus, you're getting the dice you need for a good price.
Not sold on these dice- or what you want is out of stock? Here are a few great alternatives:
Game Science Dice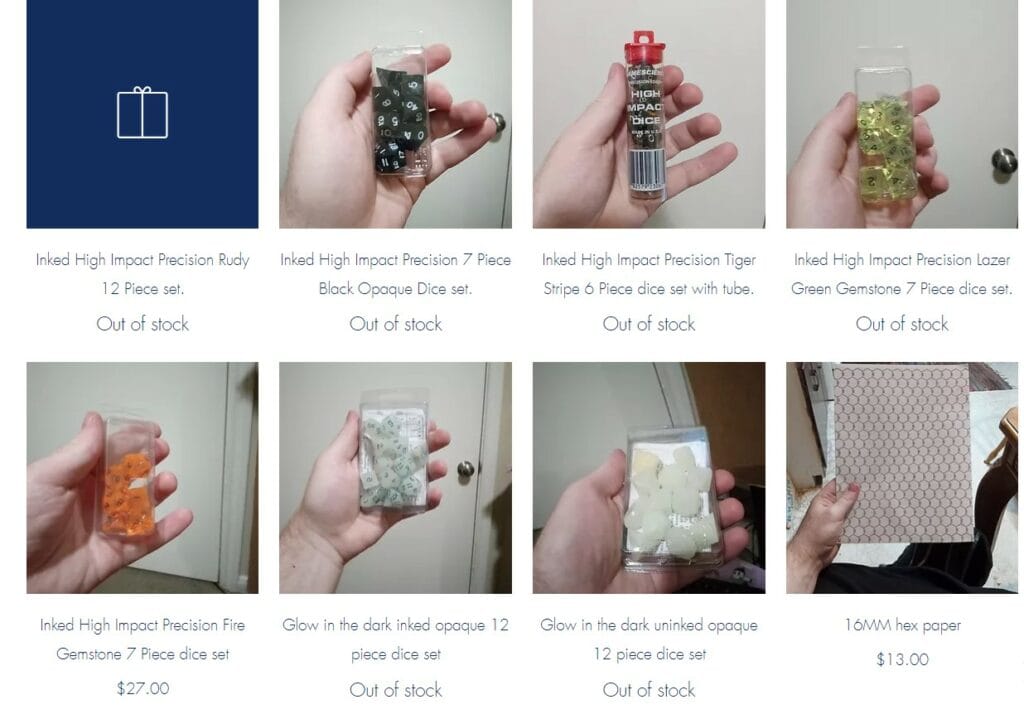 Game Science is one of my favorite brands for dice because of its quality. They sell precision dice- meant to give you the best chance (no pun intended) at a fair game. Every set is stunning, inked, and made to perform. Black, emerald green, and even glow-in-the-dark options are all available. Shop All Dice Here.
Awesome Dice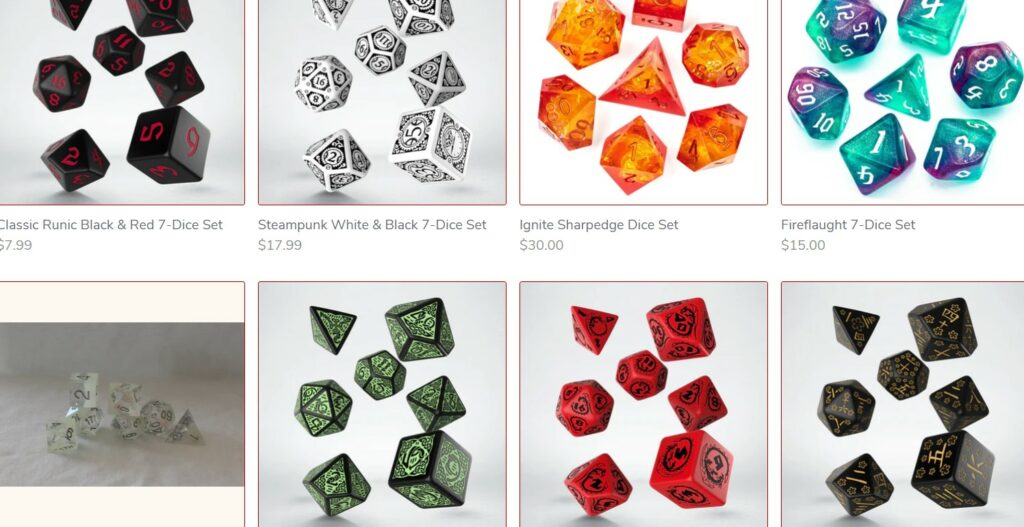 Not only do I love the high customer ratings, but I also love that Awesome Dice has a collection exclusively for DnD. That collection is wildly imaginative, from pastel hues to ombre, black, and much more. All dice come in their carrying bags, and most of them reflect some central element of DnD lore. Shop All Dice Here.
Crystal Maggie

What started as an Etsy shop has become a full-scale business (still also available on Etsy) with avid followers. Raised dice, resin dice, and liquid core dice are just a few options. These molded dice options are sure to add flair and a bit of surprise to any DnD game. Plus, there's a lot of variety. Shop All Dice Here.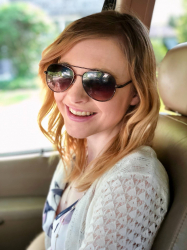 Latest posts by Erin Jamieson
(see all)