Once you buy a dice tray, you'll never look back. When I first bought one, gone were the days of losing dice under my desk or pausing games while my players all got up and under the table to recover lost dice. These best DnD dice tray ideas will keep your dice in place for smoother gaming.
Bottom Line Up Front: What are the Best DnD Dice Trays?
This article has plenty of great dice trays to choose from, but here are the best dice trays by price range:
So how have I put together this list of the best dice trays? Not all dice trays are made alike and how you plan on using your dice tray is the most important selection criteria. I've split the best dice trays into the following categories:
For Basic Rolling:

You need a dice tray. Simple. No fuss.

For Dice Goblins:

We all know them, those people who hoard dice. If that's you, these dice trays are for you.

For DMs:

Dice trays that make it easy for DMs to roll, store, and conceal their dice rolls.

For Minimalists:

Choosing a dice tray is also about your aesthetic, and if your aesthetic is "less is more," you'll love these dice trays.

For Maximalists:

I'm a "more is more" person, so the more ridiculous the dice tray, the better.

For Nerds:

If you like a dice tray that looks like your PC could find it in a Forgotten Realms tavern, you'll love these scroll dice trays.

For Gamers on the Go:

If you need to travel elsewhere to play DnD, these dice trays are the most portable.
What are DnD Dice Trays?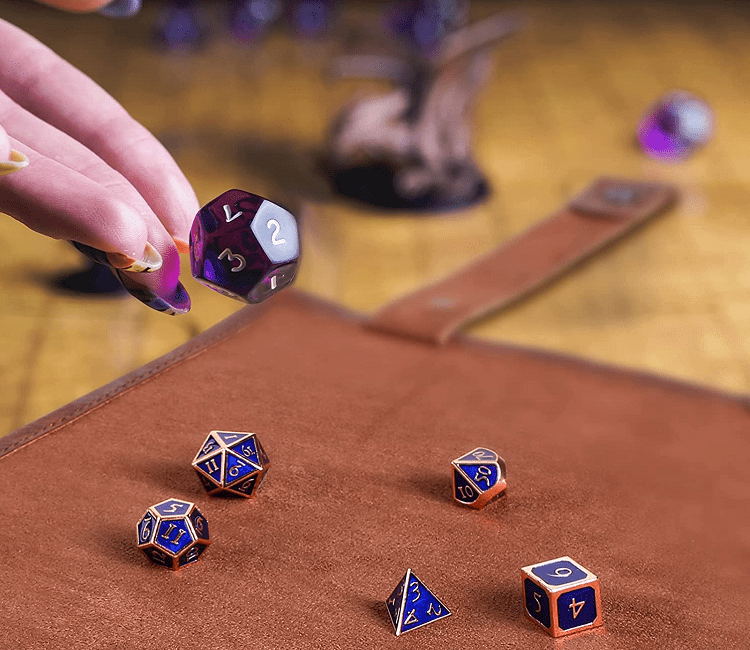 Before we get into the best dice trays, DnD newbies might be asking: what is a DnD dice tray, and do I really need one?
DnD dice trays are small trays for rolling dice in. At their simplest, they are there to stop your dice from rolling off the table or getting muddled with other people's dice. I DM on a cramped table, so a dice tray helps me keep them in one place and means I spend less time pausing games so I can start crawling around looking for lost dice.
But dice trays can offer more than a space to roll your dice in. Many dice trays have built-in dice storage, are highly portable, and for those of us who love a bit of merch, can be a unique accessory for your games. Plus, they make excellent gifts for DnD players.
The Best DnD Dice Trays
For Basic Rolling: Foldable Dice Tray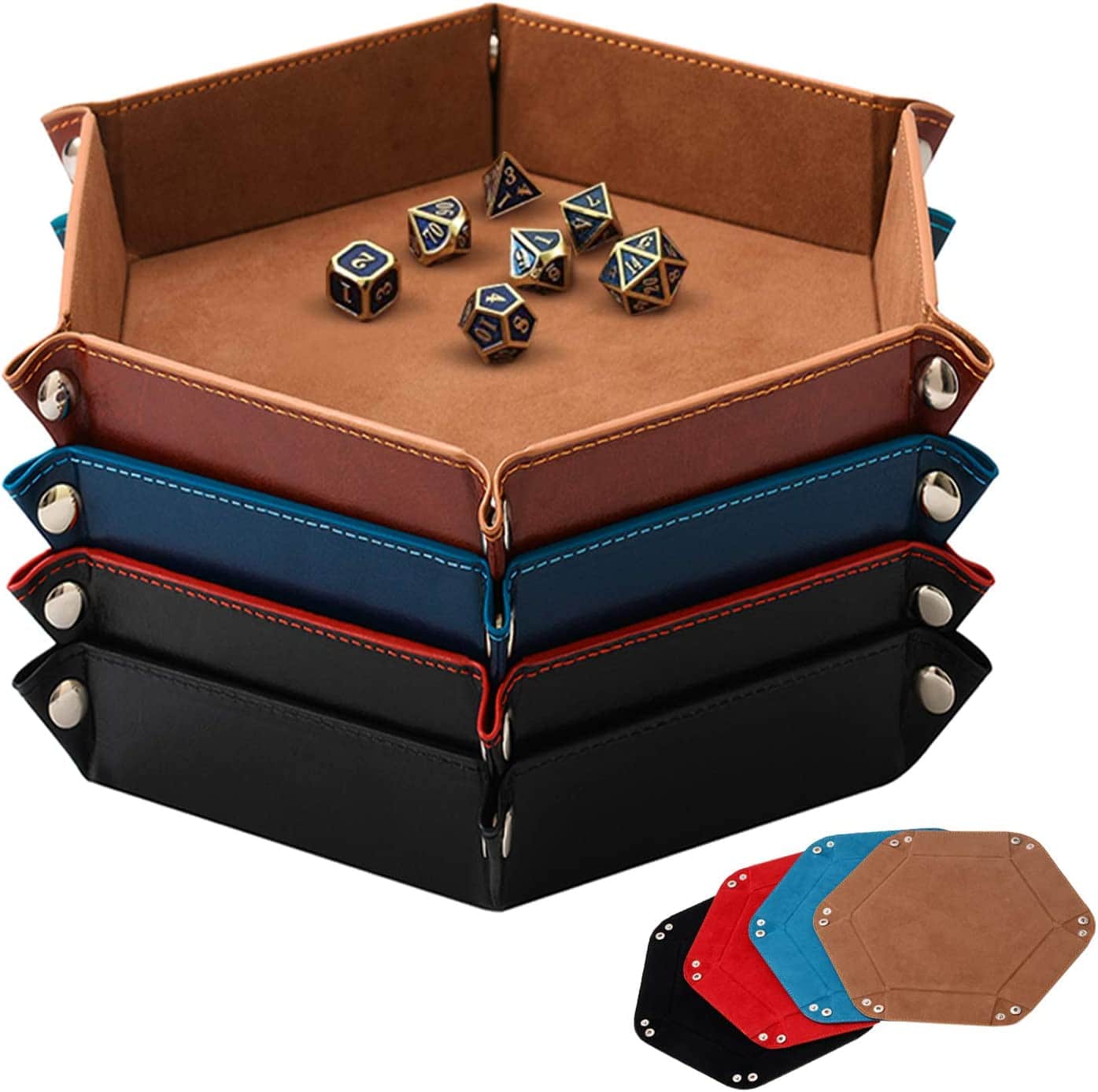 If all you need is a simple dice tray that'll do the job, a classic foldable dice tray is all you need. These trays are typically made of a faux leather exterior and a velvet interior and have metal buttons that allow you to fold it up into a dice tray and then collapse it into a flat board — perfect for when you need to pop a dice tray in your bag.
As usual, you can trust Skullsplitter Dice to have you covered. Skullsplitter have a simple faux leather and felt foldable dice tray for just $9.99; definitely worth picking up along with some more metal dice to add to your collection.
Over on Amazon, this SHYVIA PU Leather and Velvet 4 Pack of foldable dice trays is good value for money and perfect for stocking up on some basic dice trays. These DnD dice trays are good quality, a low price, and I love a good multi-buy.
Check out our comprehensive Skullsplitter DnD Dice Set Review.
For Dice Goblins: Dice Tray with Storage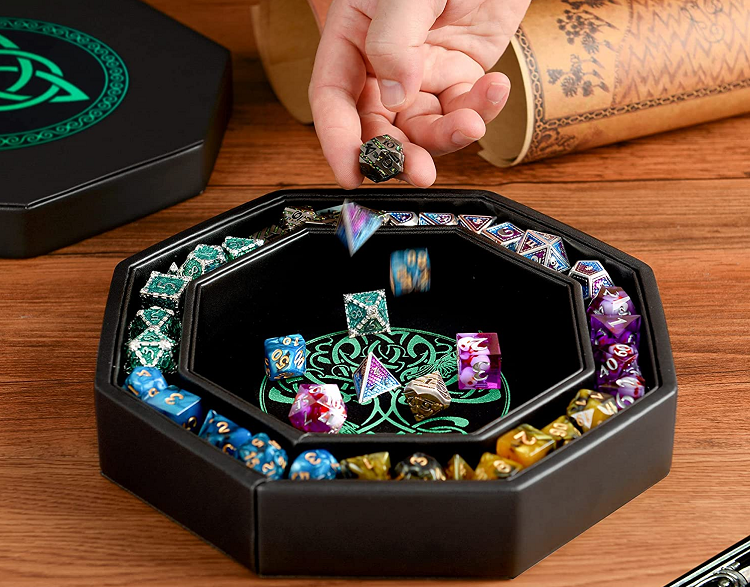 While I've said before that I'm not a dice goblin, I get the impulse. DnD dice are pretty, after all, and if you've got them, why not flaunt them? A Dice tray with storage is essential for any dice hoarder, but one with storage that lets you show off your range of multi-colored and variously crafted dice is even better.
The Soar Forge Green World Tree & Triquetra Dice Tray is a high-quality dice tray with storage that is both sturdy enough for long term use and unique enough to catch everyone's attention.
The outer ring for dice storage adds to this product's great aesthetic. Soar Forge also sells a range of metal dice, something I know will have any dice goblin salivating.
Soar Forge's dice tray comes in at $36.95, a good price for a sturdy dice tray. If you're after something cheaper, Luck Lab does a range of dice trays, including this Luck Lab Red Dragon Dice Tray, for $29.95 — but personally, I prefer the designs of Soar Forge's dice tray range.
For DMs: Dice Tower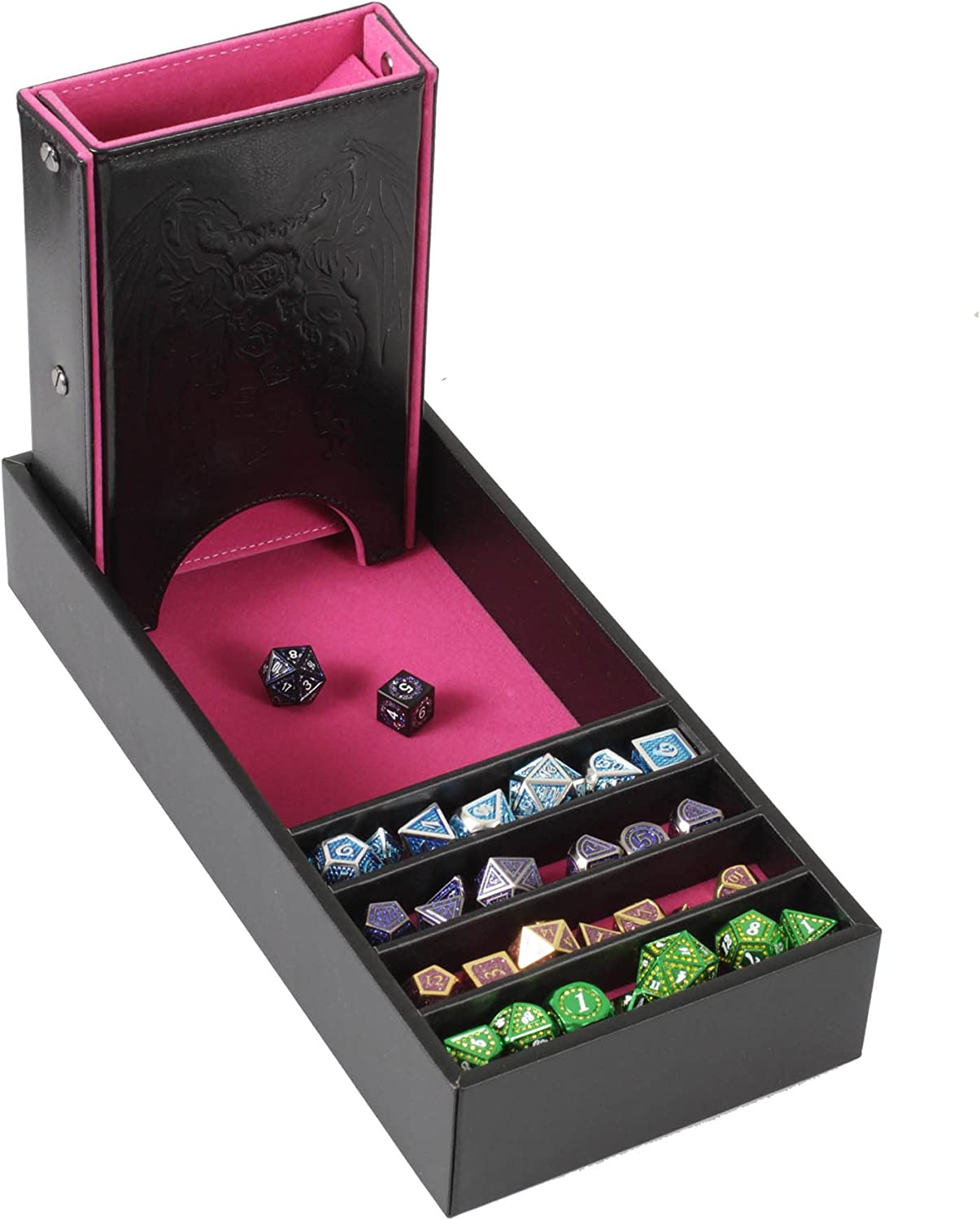 The perfect dice tray for a DM is both a tray with storage and a tray that makes it easy to conceal rolls. As a DM, I know that you don't always want your players spying over the table to see your rolls, so investing in a dice tower will help you roll more secretly.
Plus, dice towers are just really cool. I never get sick of the novelty of using a dice tower rather than rolling with my hands.
The Forged Dice Co. Citadel Dice Tray and Dice Tower, costing $45.99, covers all the bases for a great DM dice tray. Made of sturdy PU leather with an embossed design that looks like a Balrog rolling dice, this dice tower also has storage, and the tower can be folded into the rolling area, making it easy to transport.
Forged Dice Co.'s dice tower is a good price, and I wouldn't recommend spending less than $35-45 on a high quality dice tower.
I also love the portability of Forged Dice Co.'s tower, but if you're more of a dice goblin DM than a DM on the go, this similarly priced Grajar DND Dice Tray and Dice Tower with Storage is a little bit bigger, offers more storage, and has an equally cool design.
For Minimalists: Wooden Dice Tray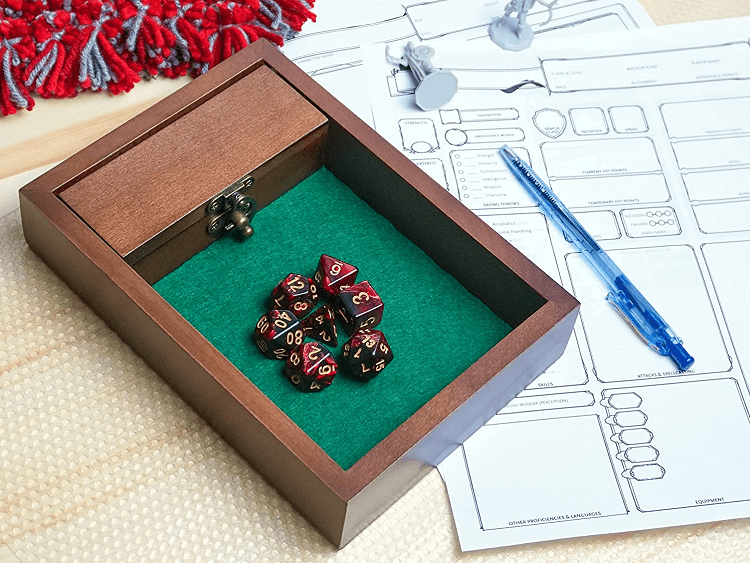 Most classic DnD dice trays are made of PU leather and velvet, but for a sleeker look at your table, you could opt for a wooden dice tray. This Wooden D&D Dice Rolling Tray with Dice Storage Vault is a low-cost but well-made wooden dice tray that even has a small storage box with a metal clasp to keep a set of dice in.
If you want to splash the cash on something really luxurious, Wyrmwood Gaming sells beautiful wooden dice trays made of different types of wood for around $100. Oh and any Critical Role fans out there will love their Mighty Nein art dice trays, a truly unique and standout dice tray if you can afford to spend $200 on one.
For Maximalists: Dragon Book Dice Tray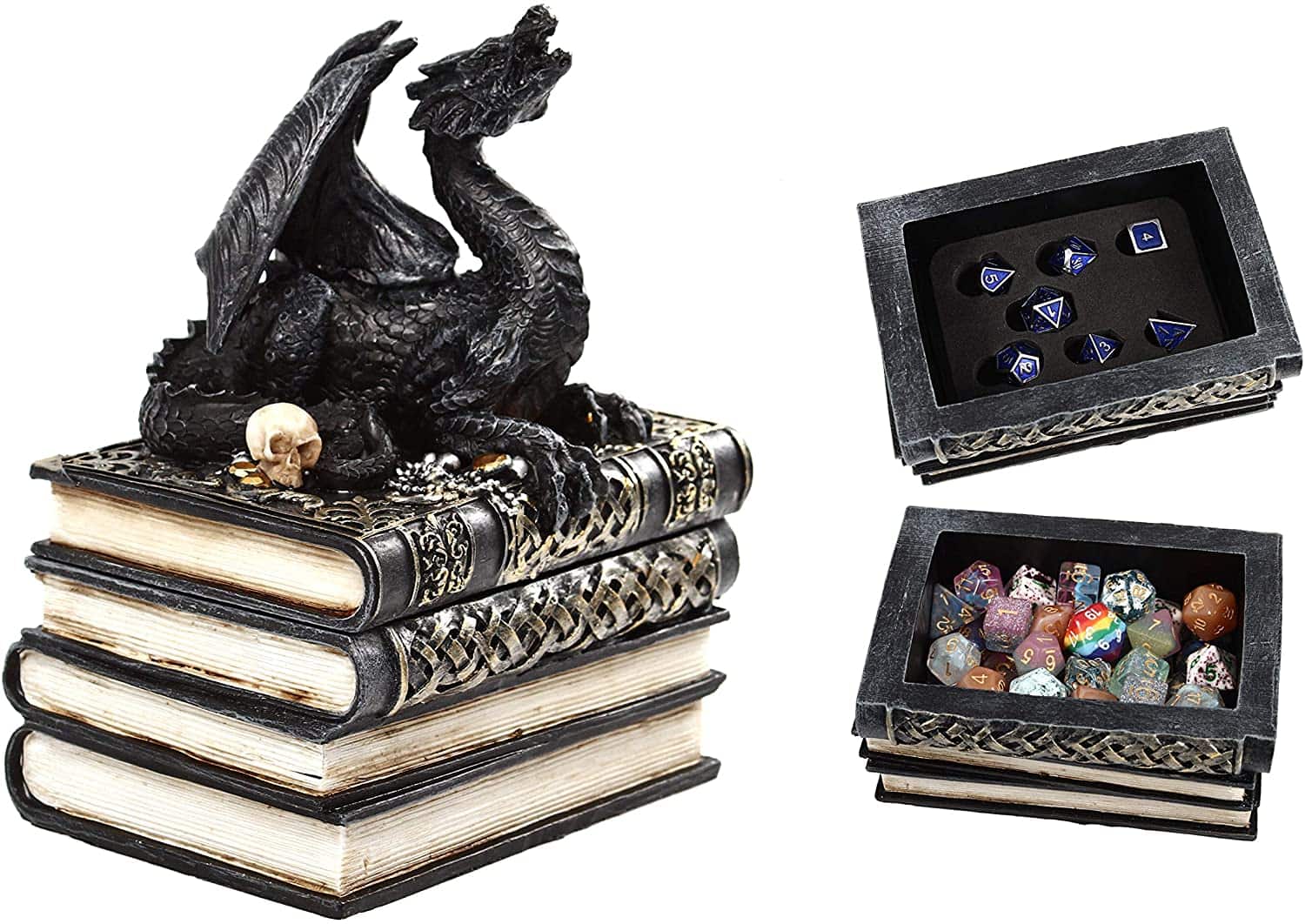 So most of the dice trays I've suggested so far have been pretty minimalist — an embossed leather here or printed velvet there aside, any maximalists who always want the most noticeable tray on the table won't find what they're looking for. Don't worry; there are some great maximalist dice trays out there too.
The Forged Dice Co. Dragon Treasure Book Dice Box is so garish and nerdy that I'm obsessed with it. This dice tray appears like a stack of books with a dragon figure on top, but opens up to become a dice tray with storage. And it's only $37.99.
Forged Dice Co. have some other maximalist dice storage boxes that I love, including one that looks like a Mimic and another that looks like a Pirate Chest. Once again, Forged Dice Co. are leading the way with cool yet affordable dice trays and storage boxes.
For Nerds: Scroll Dice Mat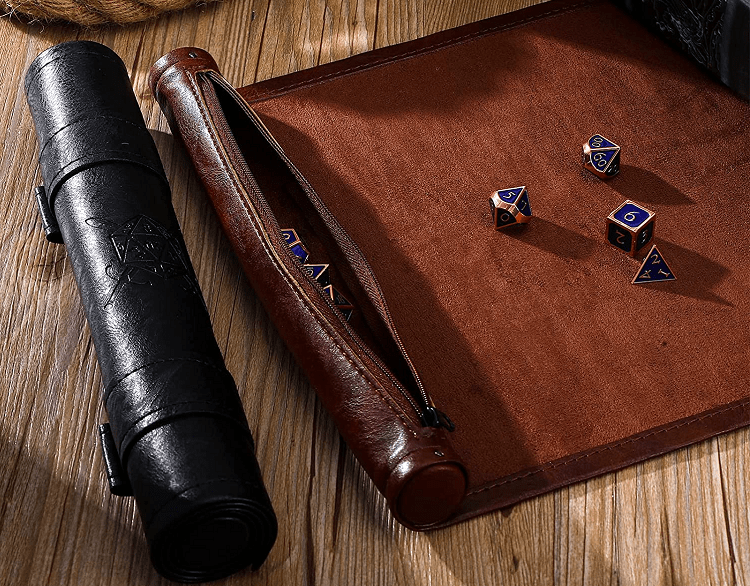 Okay, the above maximalist dice trays and storage boxes are pretty nerdy, but I wanted to ensure this list caters to more subtle nerds too who don't want to fill their house with Mimics and Dragons, but still like to show off their nerdiness just a little bit.
I love this Folding Scroll Dice Mat. Not only is it great for traveling with — dice storage and can be folded up — it's also one of the best value for money dice trays on this list at just $18.99.
Made of PU leather, this dice mat imitates a fantasy scroll and even has a lovely embossed d20 on it. Dice mats don't have the lifted edges like a standard dice tray, but the grip provided by the map will stop your dice from rolling off the table all the same.
And if you want an even cheaper dice scroll, this Friendly Dice Leatherette Rollable Dice Mat is just $7.99 and offers a simpler look. I also LOVE this Foldable Rolling Mat from Viridian, at $12, especially the Purple Dragon Scale design.
For fantasy literature nerds, you can't go wrong with this The Hobbit fantasy dice tray. A simple wooden dice tray is made special with a felt base printed with the design of the dust jacket for the 1937 edition of The Hobbit, which Tolkien drew and painted himself.
For Gamers on the Go: Dice Tray Pouch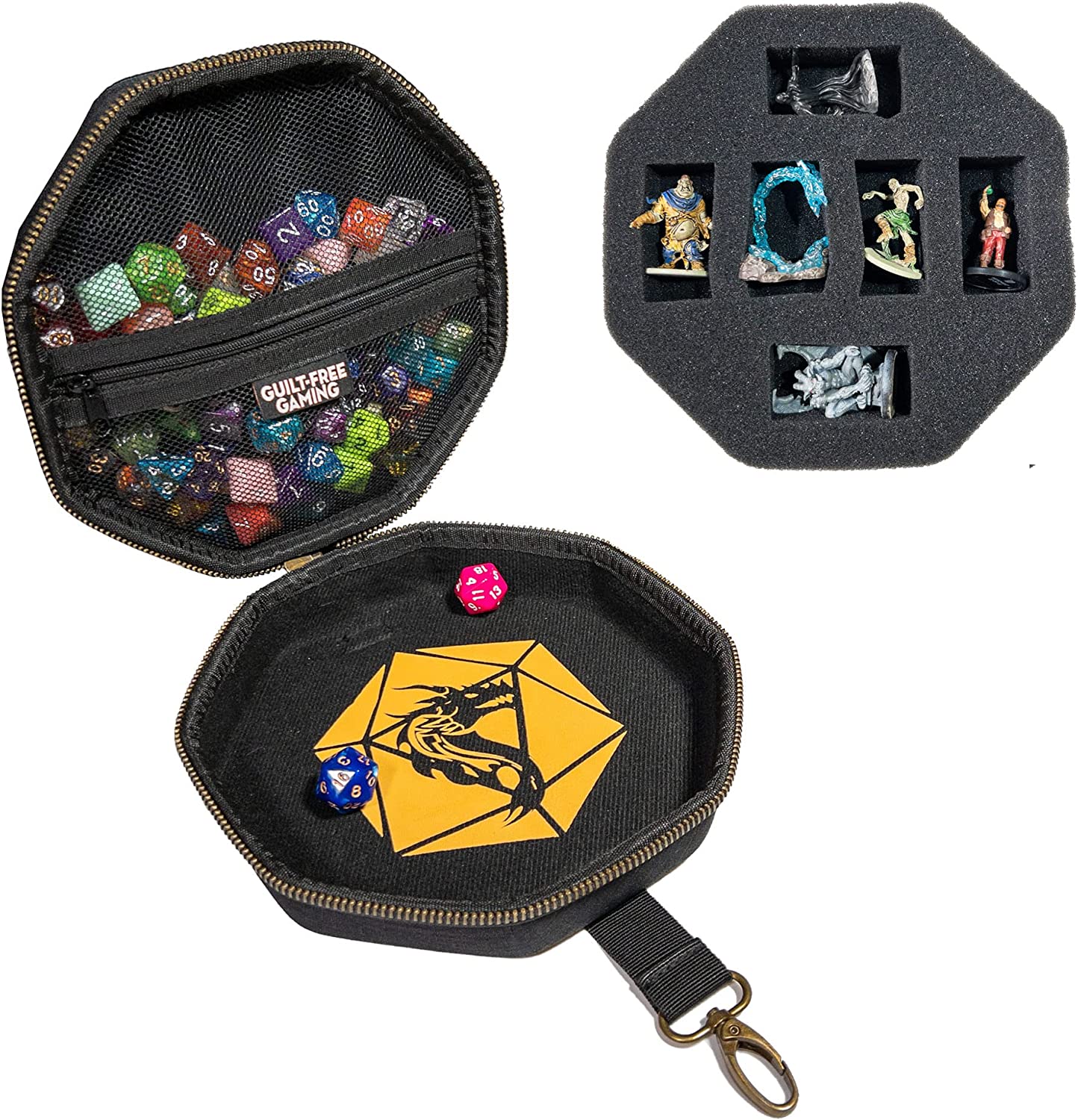 Many of us need to travel with our dice trays as we make our way to the host's house for a night of DnD, so travel-friendly dice trays are essential.
Many of the dice trays on this list are travel friendly, but I wanted to include some dice trays that are especially good for DnD players and DMs who need to transport their dice on a regular basis.
This Dice Pouch and Rolling Tray from Guilt Free Gaming is the perfect middle ground for a portable dice tray. It zips open and has a pouch for dice storage on one side and a rolling tray on the other. Plus, it comes with a styrofoam insert for storing and transporting up to six miniatures if that's your thing.
A cheaper and smaller alternative is this under $20 GeekOn Protective Padded Dice Case & Integrated Felt Dice Tray. You can fit a lot of dice in this little guy and throw it in your bag, so you always have dice and a dice tray at hand.
Finally, the ultimate DnD travel case is this ENHANCE RPG Organizer Case. Yes, it's $75.99, but when I tell you, this has FEATURES. You have storage for dice, miniatures, a character sheet holder with an erasable 'scribe panel' (a.k.a. a whiteboard), and a built-in dice tray.
ENHANCE do a lot of great dice trays and dice storage options, including this super nerdy $99.99 DnD Bag with even more storage options, but I stand by the organizer case as a great all-round travel bag for DnD players.
Frequently Asked Questions
Question: Do I Need a Dice Tray to Play DnD?
Answer: a dice tray isn't essential to play dnd, but you'll probably want one after a few games. They stop dice from rolling off the table and are especially useful if your play area is a little cramped and you want to keep everyone's dice separate.
Question: how big are dice rays?
Answer: dice trays usually range from 7 to 20 inches in diameter. In my opinion, size doesn't really matter when it comes to dice trays, but a compact tray is great for travel and for more cramped tables.
Question: what are dice trays made of?
Answer: most dice trays are made of a faux leather exterior and a felt interior. There are exceptions to this, of course, like the wooden dice trays suggested above.
Question: how do you make a dice tray?
Answer: making a dice tray can be as simple as making a small box, and you can use any material from wood to cardboard, but I'd recommend lining it with felt.
This is key as you don't want to damage your dice by rolling them onto a hard surface. Felt will both cushion your dice and add enough grip to stop them from flying off the table.
Conclusion
While a simple foldable dice tray may suffice for many DnD players, there's really no reason for your dice tray to be boring. This list has a range of dice trays both for players who want some merch with features and the super nerds of us who can't help but buy unique gaming accessories.
My final recommendation? The Forged Dice Co. Citadel Dice Tray and Dice Tower may be one of the more expensive dice trays, but if you want an upgrade from your bog standard foldable tray, Forged Dice Co. (who make great products) have the perfect dice tower that is both portable and lets you throw dice down a tower, which never gets old, right?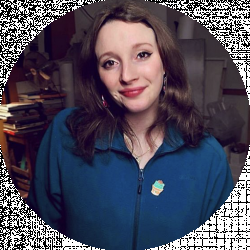 Latest posts by Emily Rowe
(see all)