My interest in Dungeons and Dragons came first from my father. He created his campaigns and characters- and his love for creating worlds has even extended into other projects. But a lot has changed since then, and, in recent years, there's been an explosion in the DnD community. Along with that? Great Dungeons and Dragons merchandise such as hoodies.
DnD hoodies are popping up everywhere, from fan-made ones on Etsy and Reb Bubble to officially licensed designs. What better way to play than in a hoodie that keeps you comfortable and in the theme?
Today I'll review the best DnD hoodie ideas that I'm excited to share. These hoodies are versatile, unique, and comfortable. More importantly, it shows that the D&D community is very much alive and thriving.
Bottom Line Up Front Summary
Dungeons and Dragons isn't just a game- it's a community. That community is only growing, and so are the great DnD merch options. What I love about D&D hoodies is that they're comfortable, practical, and the perfect way to show the love of the game. They're also great for gifting! My hoodie ideas are comfortable, affordable, and include a wide range of styles and sizes.
If I had to recommend just one of these DnD hoodies, it would be this Dungeons & Dragons Ampersand Logo Hoodie. It's not specific to any one role, so as you play different games and take on different classes, it's always going to work.
I'm loving the classic fit with a twill neck and the soft cotton and polyester fabric. Not only is it comfy, but it's more breathable than a fully cotton hoodie- perfect for those long game nights.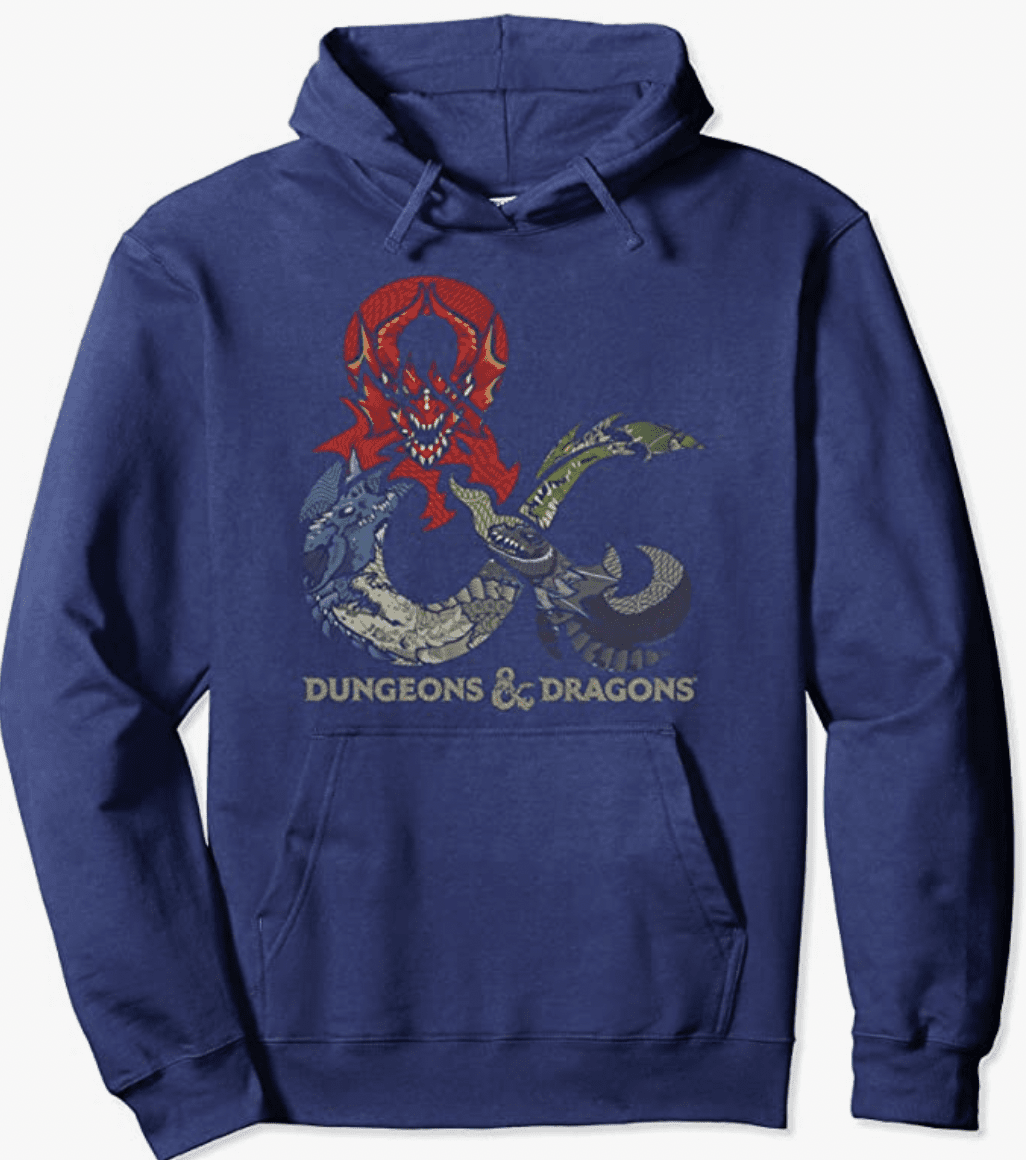 My Top Picks
My Selection Criteria
From zip-up hoodies to pullovers and just about every color you can imagine, there's no shortage of DnD hoodies. The problem? I'm selective, and for good reason. I think D&D deserves respect, and that means selecting hoodies that are practical and a step above the rest. Here's how these ideas made my shortlist.
Sizes For All Players
One thing that's important about the D&D community is that anyone can play. What I love about this community is that your imagination is the limit- and all should feel welcome.
For that reason, while hoodies don't need to fit perfectly, I did my best to include hoodie ideas that collectively reflect as wide of a size range as possible. I also wanted to throw in a D&D hoodie for different fit preferences, from more oversized to a slimmer fit.
Officially Licensed Merch
This is a big one- and probably the number one difference between my list of ideas and what a lot of people buy. Exciting as it is to see fan-made merch, I'm showing you only officially licensed D&D hoodies.
They're more valuable, better for collecting, and legally can include official characters and logos. It took some hunting- but what's a good D&D product without undertaking some adventure and exploration?
Comfort and Practicality
Look, I know that D&D game nights can get intense, and the last thing you want is a hoodie that has cheap, uncomfortable fabric.
So for those nights and brainstorming your characters or campaigns,l I stuck to soft and classically comfortable hoodies.
While some are softer than others, fabrics like cotton and polyester- and an overall comfortable design- had my top consideration.
Signature, Meaningful Designs
From logos to characters to classic campaigns, my ideas represent some of the essentials of the D&D franchise. I'm showcasing versatile and creative designs, that, through embroidery, quotes, and more, shows just how much creativity goes into a game of Dungeons and Dragons. Along with that, I paid attention to different necklines and unique colors.
Price Range
D&D can be an expensive hobby if you get really into collecting accessories and merchandise. But I see just as much fun in spending less. For that reason, I'm including hoodies at different price ranges.
The caveat is you do sometimes have to pay a little more for officially licensed Dungeons and Dragons hoodies. A lot of these hoodies cost around $30 to $40, with some cheaper and some more expensive options.
Where I Shopped
Google D&D merch and you'll be met with many results. It's exciting to see the love for D&D only grow! But since I was looking for specific hoodies, I only shopped for them at stores:
Offering officially licensed merchandise

With a history of reputable customer service

With secure and convenient shopping

With fair shipping/ handling policies
Red Bubble, Tee Spring, and Etsy aren't being included because they don't carry officially licensed hoodies. At the same time, some websites claiming to sell officially licensed merch got axed because of concerning complaints and poor customer service.
Finally, while a lot of people look at places like Forever 21 and H&M, the selection of D&D hoodies just isn't available right now.
I shopped for Amazon, Walmart, the official D&D store, Target, and Hot Topic instead.
Dungeons and Dragons Hoodies: My Top Picks!
Here are some of my favorite ideas for cozy, unique, and staple DnD hoodies. From a simple gray graphic to a bold design, get ready for game night in or out with these fantastic hoodies.
1. Dungeons & Dragons Ampersand Logo Hoodie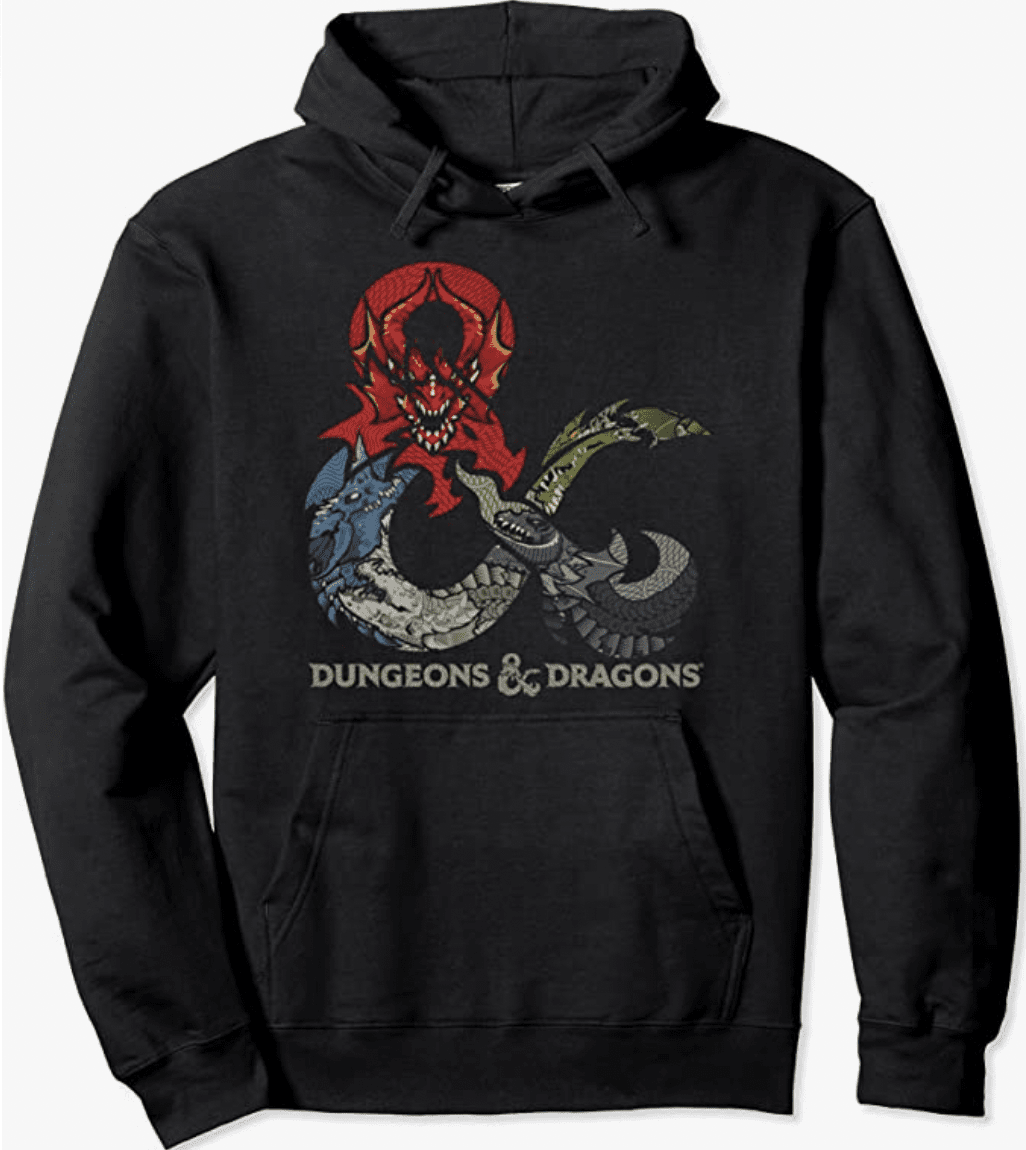 An ampersand design is one of the most immediately recognizable designs you can go with- and one of the most versatile! What I love about this DnD hoodie is that it stands out from other designs like it, with dragons adding an explosion of color and a dramatic flair.
The tapered hoodie is comfy and a bit stylish, and it's all made with a soft cotton and polyester blend. The main dragons are featured: the blue dragon, red dragon, green dragon, silver dragon, and black dragon- all a nod to the 1989 second edition.
I love that it's a bit vintage but also a powerful sign of where the game is today. While I think black is most striking, the navy and heather gray are excellent choices too. Buy Here.
2. Dungeons & Dragons Illithid Roll Pull Over Hoodie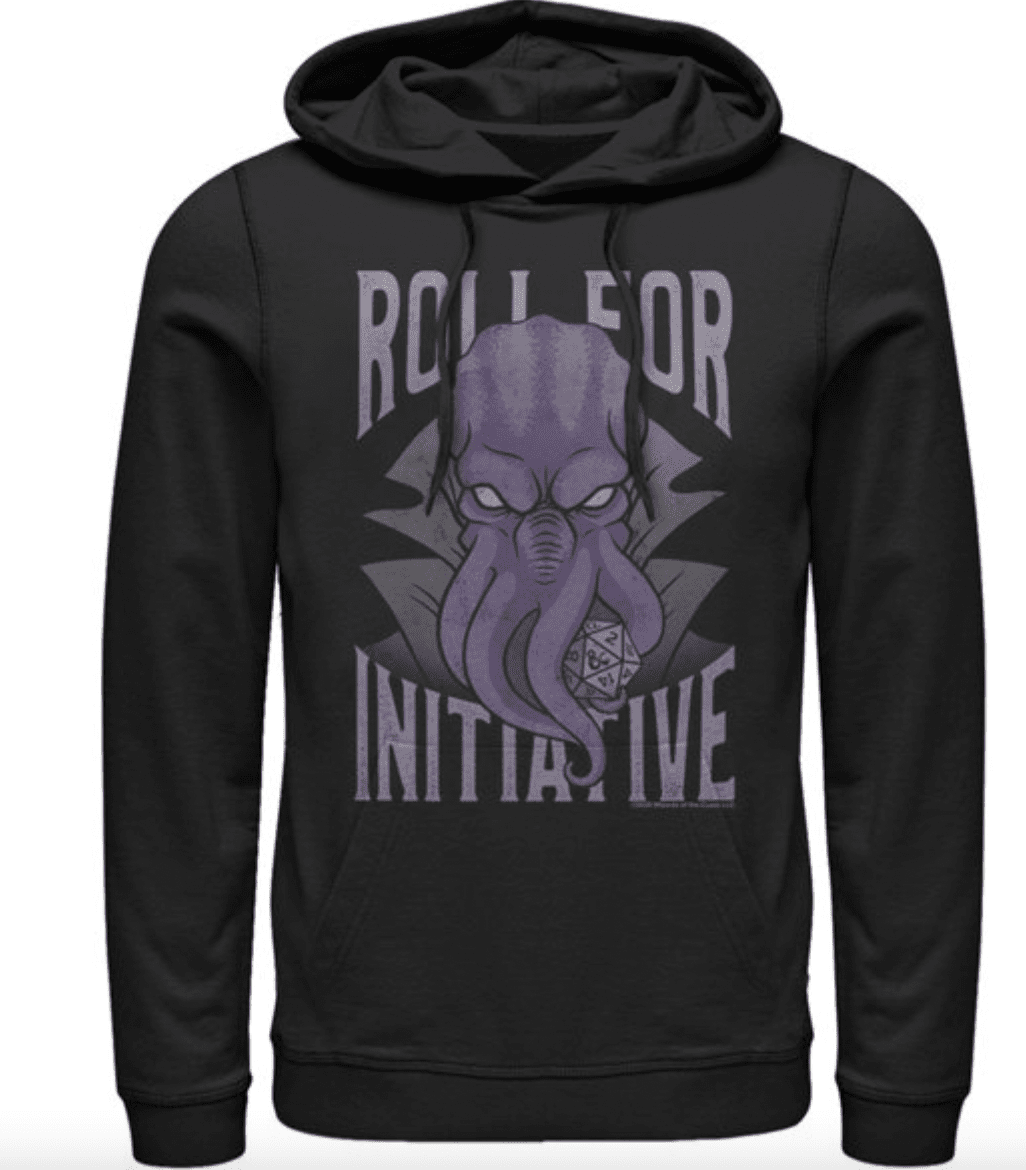 Something I love? A nod to old TV shows and references. Not all DnD players will know about the reference, but the illithid is a reference to the 1980's Dungeons and Dragons TV show.
That's not even to mention the fantastical design behind the humanoid beast, with a piercing stare and dangling tentacles. I love how the black backdrop makes the acid purple pop.
It's a great villain hoodie that runs true to size and is cozy for a cool day. Buy Here.
3. Dungeons & Dragons Rolling Dice Zip Hoodie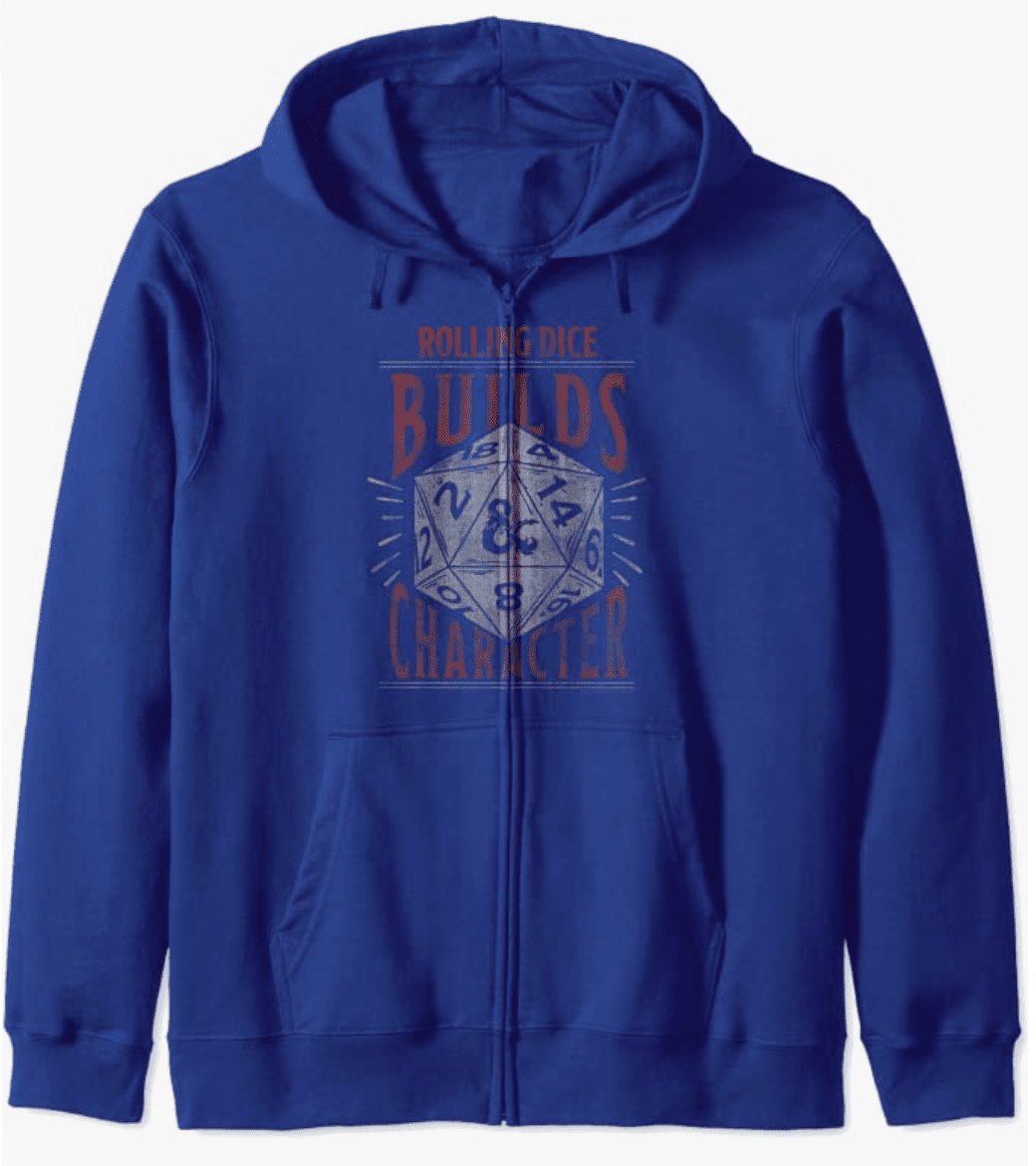 My personal preference is? A zip-up hoodie. That's because I get too hot quickly- and if I'm playing a long game, then a zip-up is where I'm most comfortable. But too many D&D zip-up hoodies attempt a complex design.
This design is clean and yet interesting, with iconic dice down the center. I'm loving how the lightweight zip-up pairs with an adjustable hood and a soft cotton-polyester blend for the ultimate in comfort.
This would be my go-to for an outdoor game on a mild fall or spring day. Check it out in gray, black, navy, purple, or green! Buy Here.
4. Dungeons & Dragons Cartoon Players Sweatshirt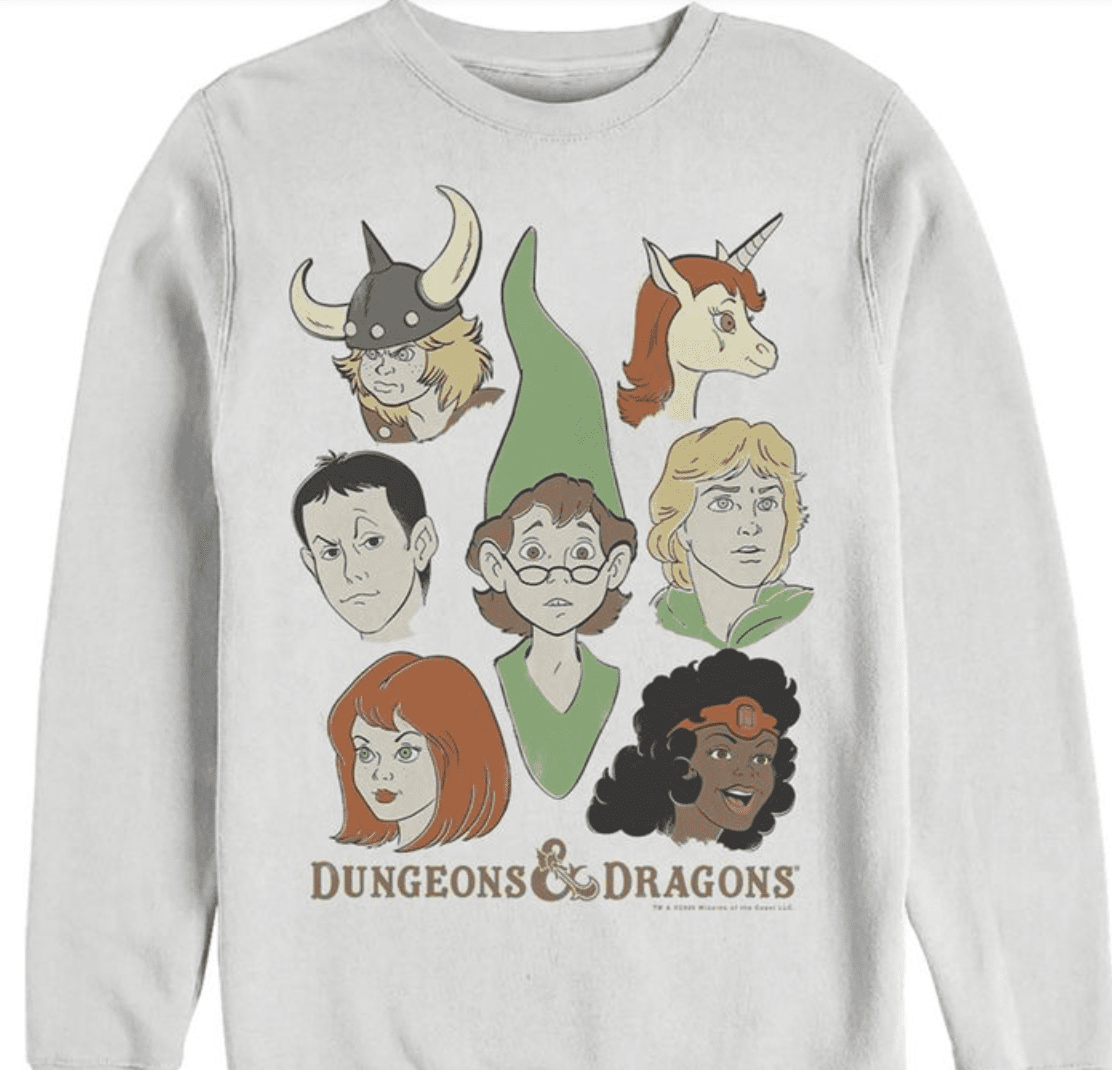 I know: technically this isn't a hoodie, but I love the crewneck sweatshirt for a truly unique and whimsical take on DnD merch. If you don't want the bulk of a hood but want the same comfort, this officially licensed hoodie from Target has a full cast of characters from the D&D cartoon.
That's great not only for fans of the cartoon but for anyone like me who loves dreaming up characters. It's a snug fit, so anyone looking for a loose fit might want to size up. Buy Here.
5. Dungeons & Dragons Eldritch Wizardry Hoodie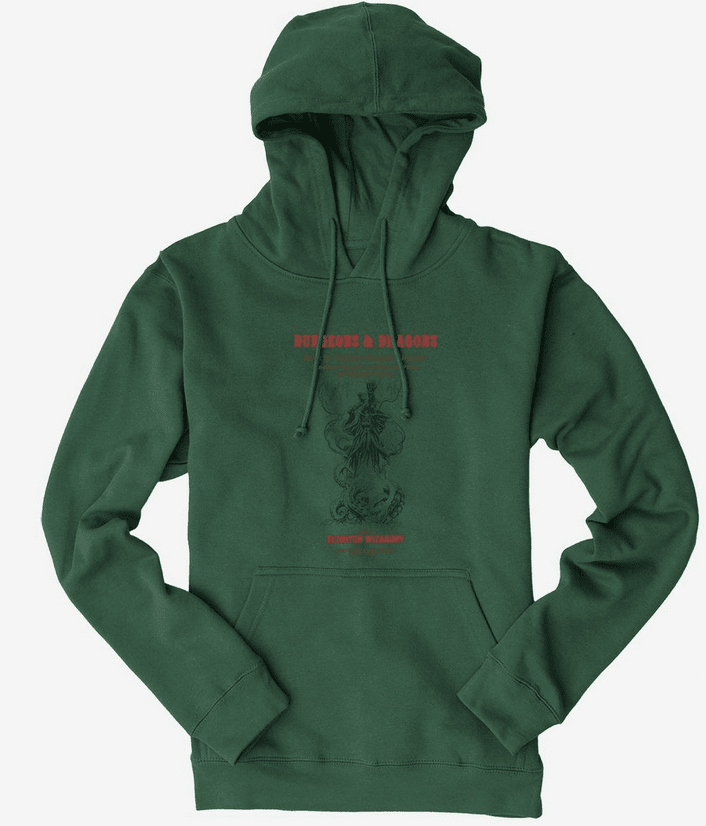 If you've never checked out the Eldritch Wizardy rulebook, it's worth a look! The rulebook came out in 2005 and we have it to thank for the addition of artifacts like the Axe of the Dwarvish, demons, and much more.
This hoodie alludes to that classic rulebook with a classic design that stands out from most DnD hoodies.
With 7 colors and 5 sizes to choose from, this cozy cotton and polyester hoodie is one of my favorites. Even better? It's preshrunk so you don't have to worry about making the mistake I have made before and drying it for too long. Buy Here.
6. Dungeons & Dragons Dice Rainbow Gradient Hoodie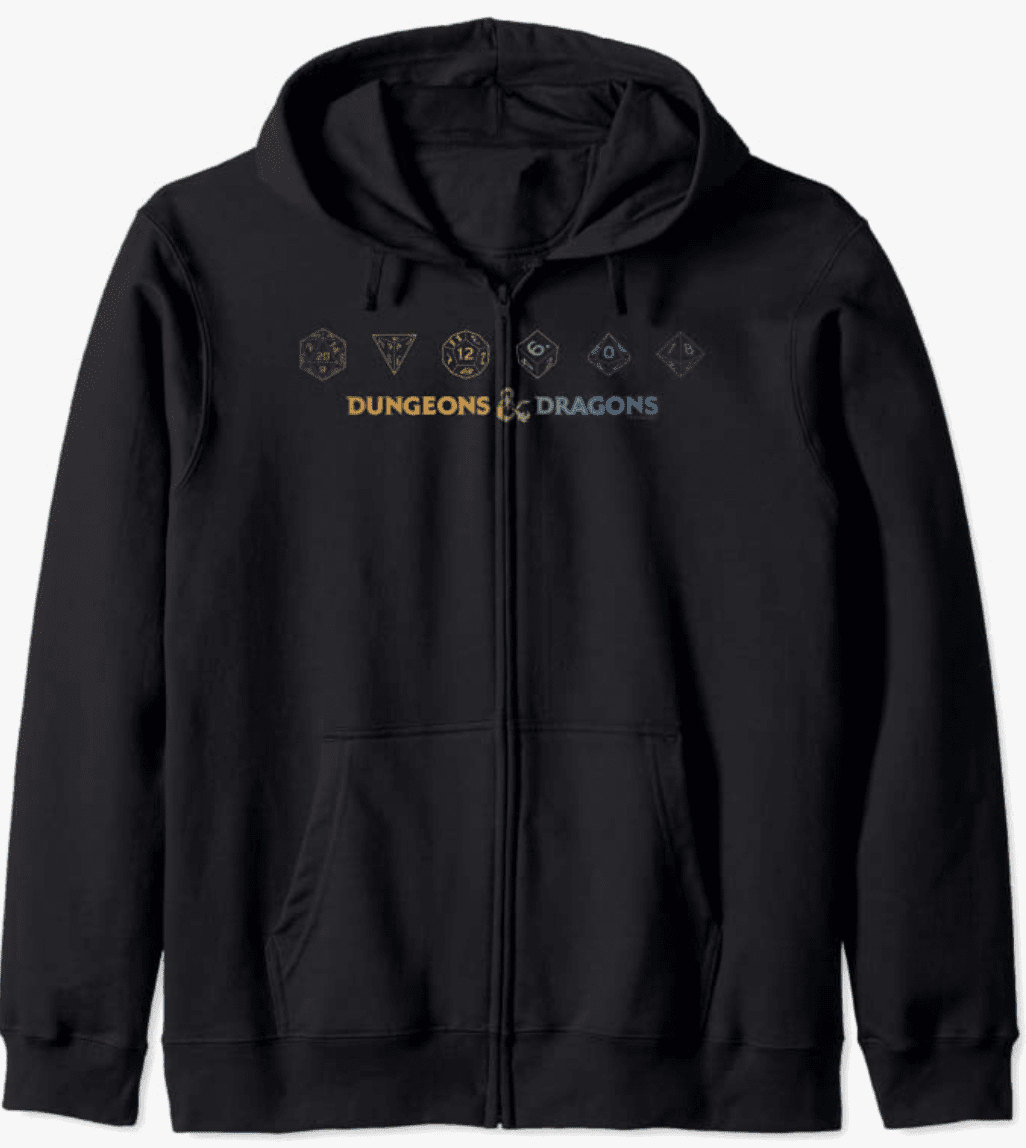 Something I love about the Dungeons and Dragons community today is that it's becoming more and more inclusive. Check on Amazon, and you'll see a wide array of Pride and LGBTQIA+ hoodies with D&D designs.
It was hard to choose amongst all of them- but this rainbow gradient hoodie ultimately won me over with a timeless and bright, yet versatile design.
It's a zip up- perfect for those mild days and for layering over your favorite Dungeons and Dragons t-shirt. Black and navy are both good backdrops for letting the rainbow logo and dice shine. Buy Here.
7. Dungeons & Dragons Barbarian Zip Hoodie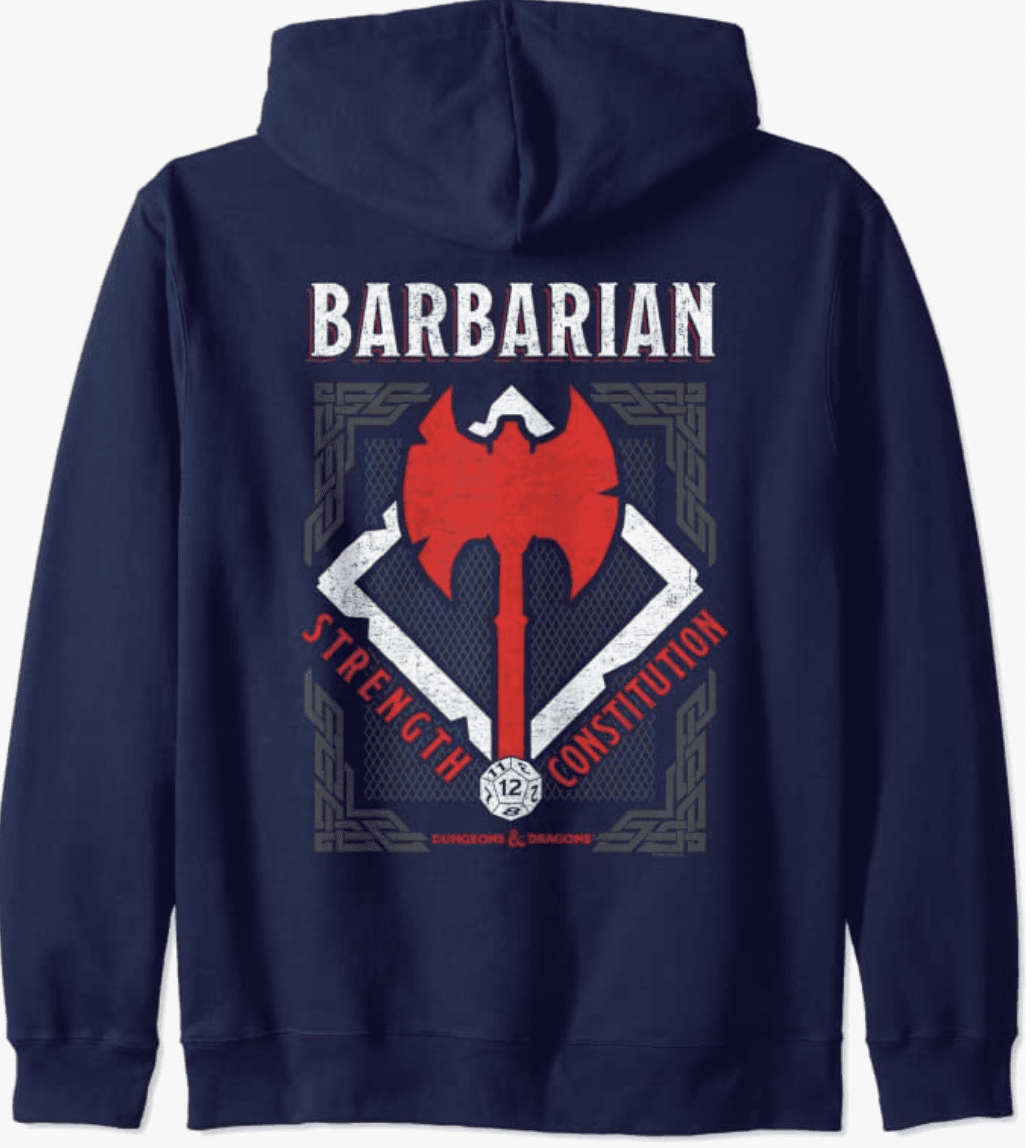 Barbarians are one of the most hard-core characters in D&D, with their raging powers and forceful nature. If you want to embrace that character, I think this bold zip-up hoodie is the perfect way to go. What better way to say strength than with this vibrant red logo and font?
The red is a bold contrast to the black, but don't be afraid to try out any of the other colors- purple, navy, gray, and royal blue. I like the classic fit, plus the cozy cotton and polyester blend for a hoodie that you could wear about any day. Buy Here.
8. Dungeons & Dragons Bard Pullover Hoodie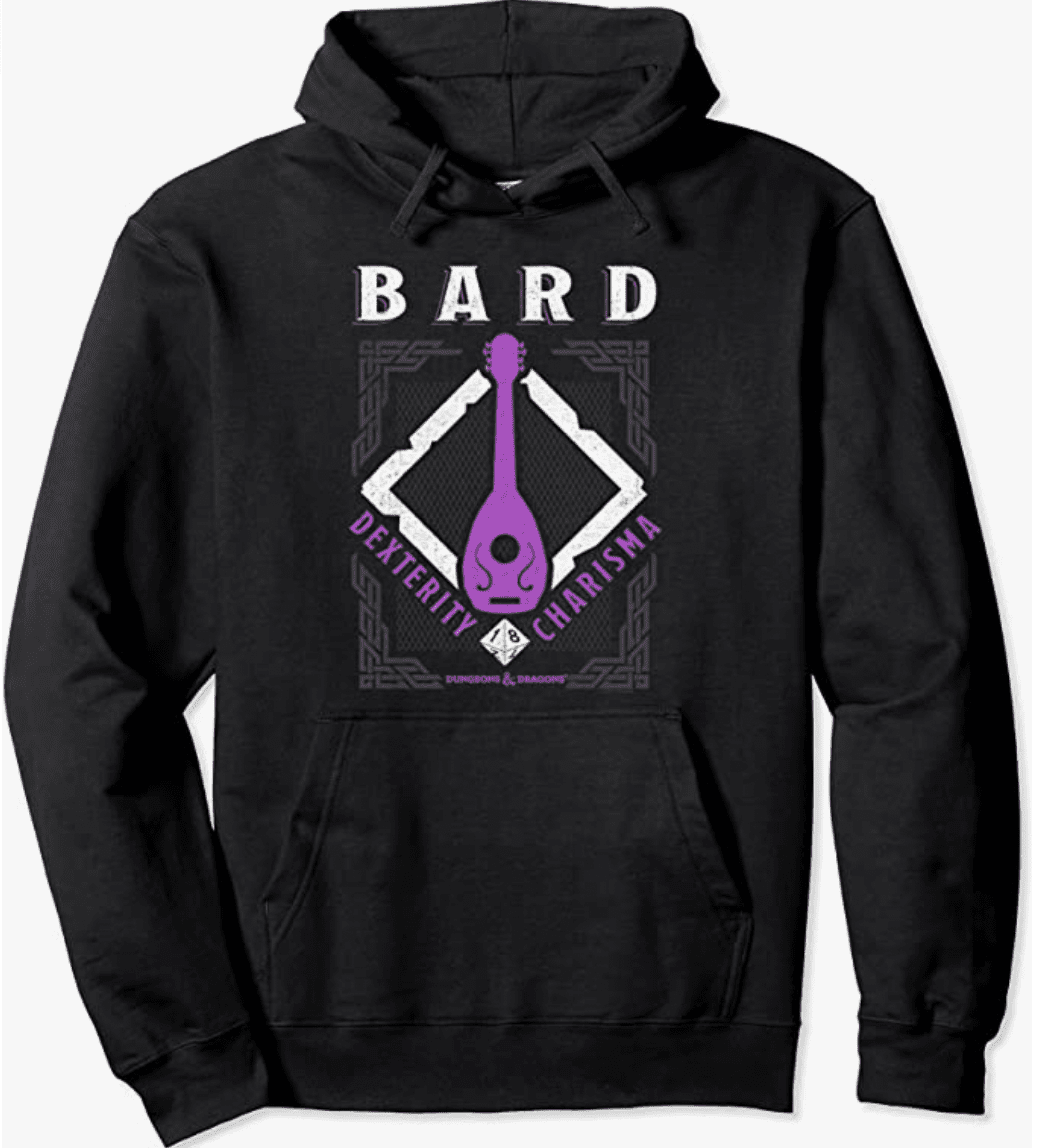 Everyone in the DnD community knows that a bard is charismatic and flirtatious. But what I like about his hoodie is that it both expresses a bard's whimsical nature- and goes a little against expectations.
Instead of an overall embellished design, this hoodie keeps it simple, playing a nod to the bard's musical talent, with an acid purple overlay.
Navy is my favorite color, but gray and black make that symbol stand out just a bit more. So go ahead, and make yourself known with this cozy polyester and cotton hoodie. Buy Here.
9. Dungeons & Dragons Vintage Warlock Hoodie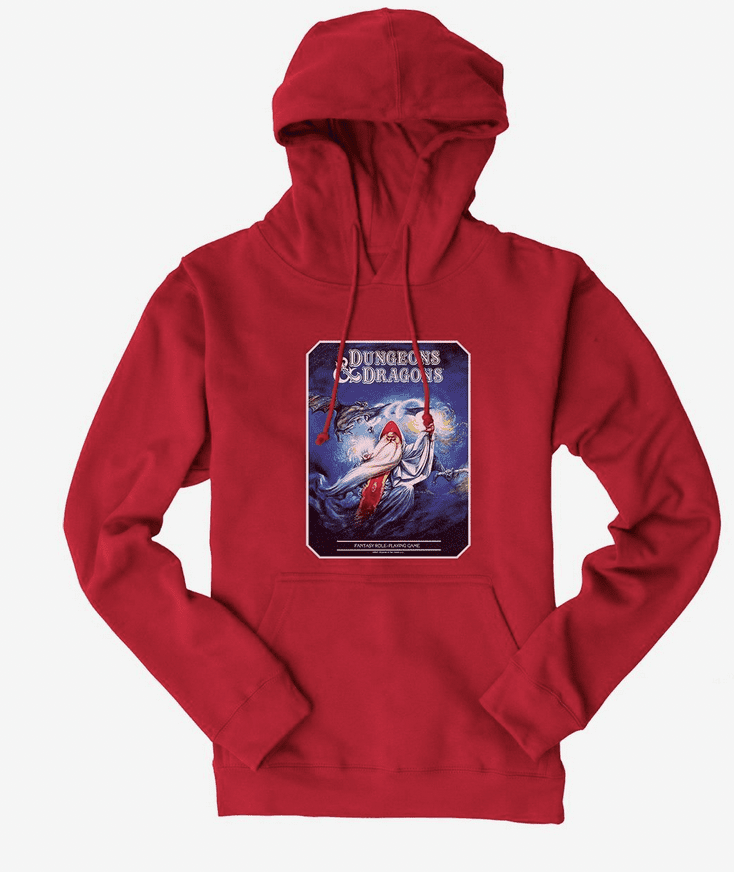 I find warlocks to be one of the most fascinating classes in Dungeons and Dragons. Why? Warlocks have a connection to a higher power, who bestows upon them powerful but limited magical abilities. But I love them less for their power and more for their enigmatic nature.
What better way to showcase that than paired with a vintage design? This hoodie features pre-shrunk fleece for an especially soft and cozy touch even on a cold and dreary day. I love how it references the origins of D&D, and it doesn't hurt that it's available in 7 colors. Buy Here.
10. Dungeons & Dragons Fighters Men's Black Sweatshirt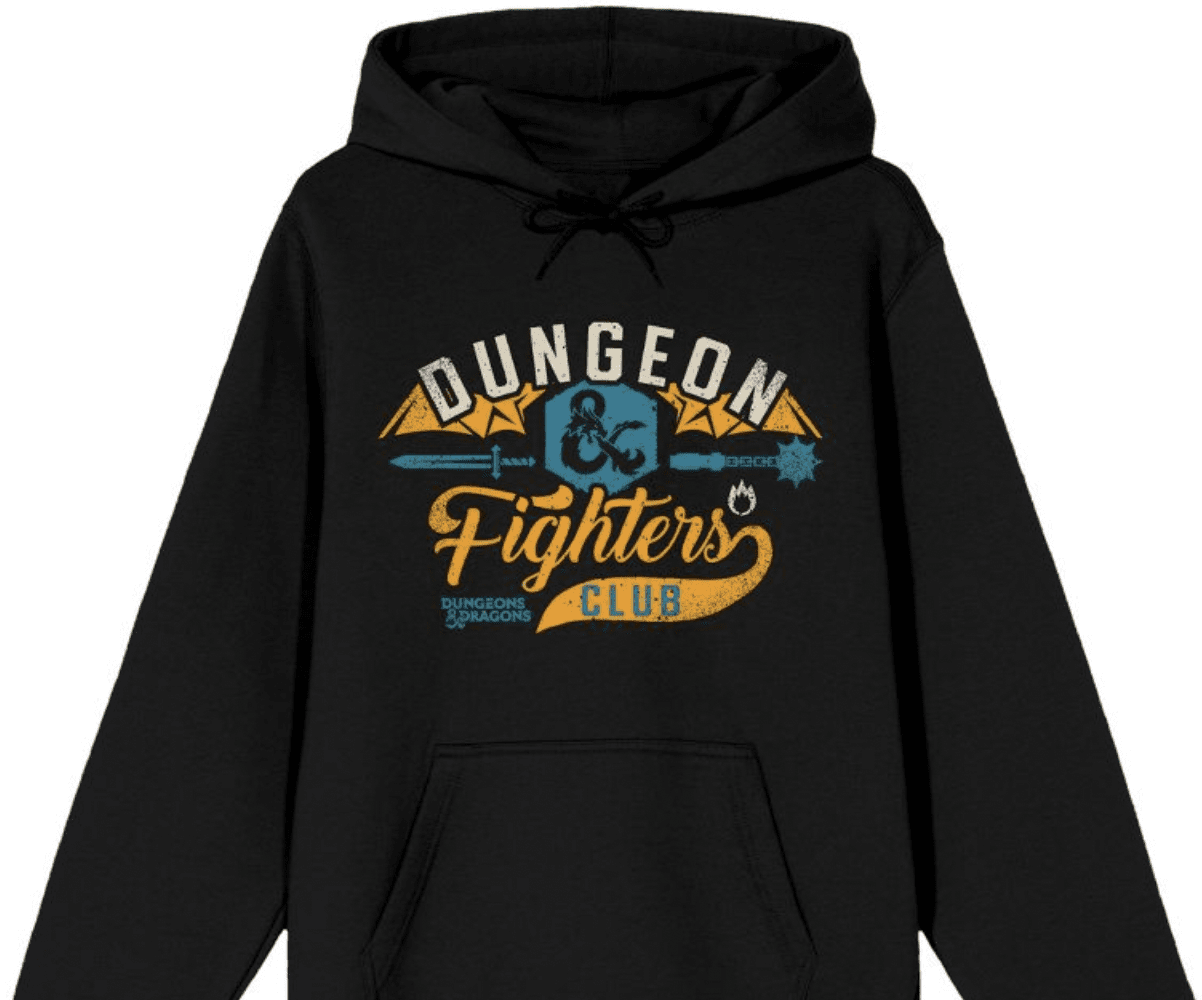 If you're looking for a classic D&D logo hoodie, look no further than this design! I love this idea for just about anyone who wants a low-key look that they can wear anywhere. Pair it with jeans and wear it in or out.
The yellow and turquoise font pops against the black cozy cotton fabric. But it's the generous pockets that sold me. Large pockets are perfect for carrying dice or other accessories- and if you're like me, maybe you're less likely to misplace something. Buy Here.
11. Dungeons & Dragons Floral Dice Grid Pullover Hoodie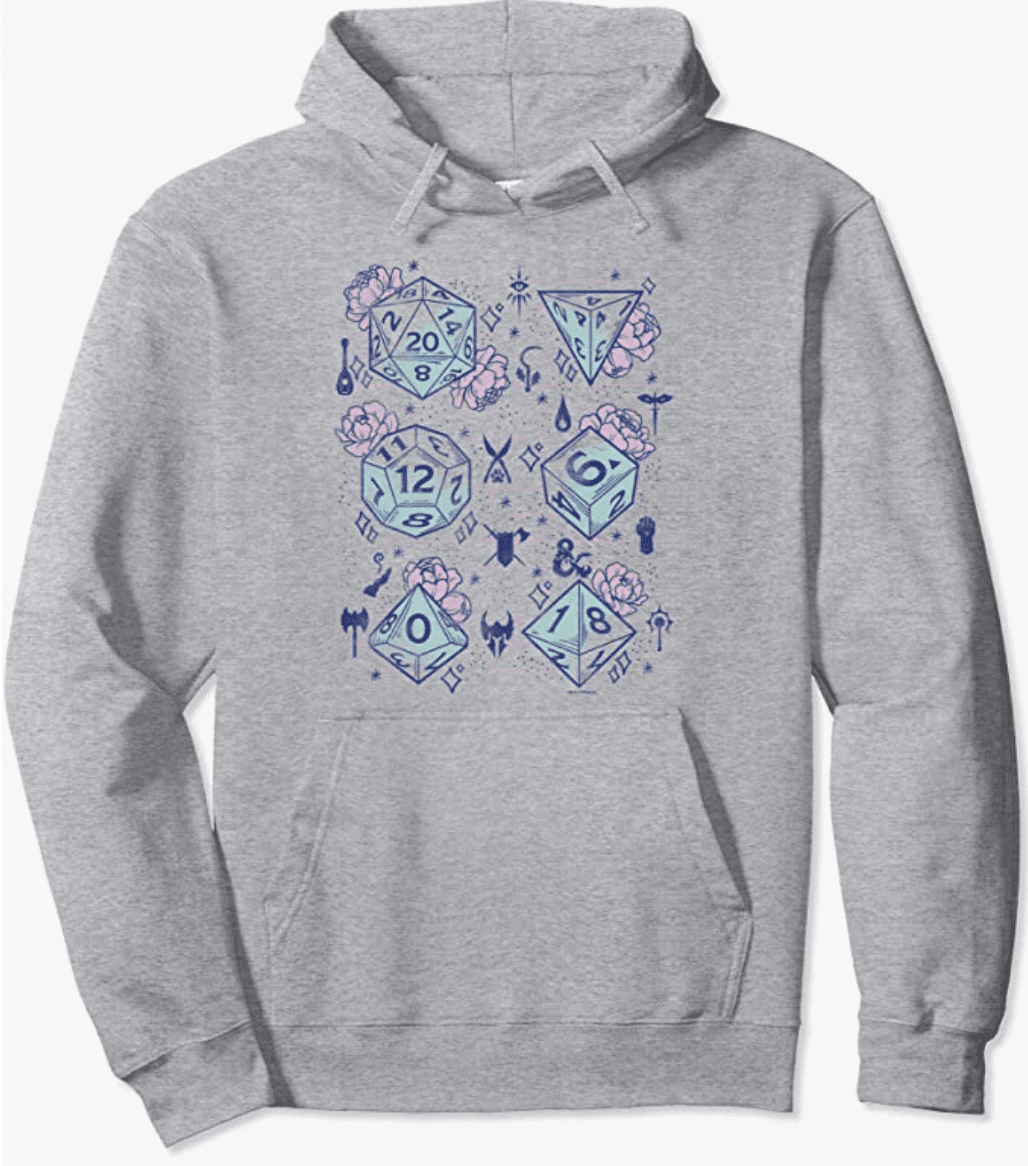 One thing I will say about Dungeons and Dragons is that most of the designs are darker colors- and that's why this playful, dice-theme hoodie is different. The pastel colors are soft and to me speak got the more creative, magical elements of the game. The unisex classic fit works quite well with a twill-taped neck.
A great balance of cotton and polyester- which I like for an even balance of comfort and breathability. The tapered pocket is great for slipping in a small rule book or a favorite accessory.
I like the heather gray, but I do wish there were a few other colors. Buy Here.
12. Dungeons & Dragons Master of the Dungeon Hoodie
Being a Dungeon Master is hard work. You're the narrator, tasked with creating the world other players will explore. That takes talent, and creativity- and steers the narrative your campaign will take. So I think a Dungeon Master deserves their hoodie- and this design is my favorite. A bold gold ampersand symbol features an iconic dragon, flanked by the Dungeons and Dragons lettering. I love the soft cotton and polyester fabric paired with a classic fit. Not only is this hoodie immediately recognizable, but it also can be worn with just about anything. Buy Here.
Frequently Asked Questions
Question: Does GameStop sell D&D stuff?
Answer: Gamestop has some merch for D&D fans- and I also think it's a decent place to look for Dungeons & Dragons gifts. My top pick for beginners is simple: a Dungeons & Dragons Starter Set that includes a 64-page book and a 32-page rule book. They also carry an exclusive ring set, an accessory sword set, a striking dice and tray set, and a lot of the most popular D&D games for consoles. But probably the most interesting thing they carry for D&D collectors is a nice range of Funko Pops. While you can't find everything in stores, it's a good place for online shopping.
Question: What should I buy for a D&D nerd?
Answer: D&D nerds love anything that will enhance their game! My favorite gift ideas include accessories like tokens, carrying cases, dice trays, and towers. While some players will love books, others want to step up their game nights with decoder rings. If you're stumped, think about how you like showing your love for a fandom. I love office decor, especially decor that is also practical. Desk accessories, welcome mats, shower curtains, pillows, and more are all available. Sometimes you have to hunt on sites like Etsy, but there are also officially licensed options, too. There's no shortage of choices!
Question: What is a good gift for someone who plays Dungeons and Dragons?
Answer: The great thing about Dungeons and Dragons is that it's an expansive world- and your imagination is the main limit when it comes to gifting. You can go with hoodies, t-shirts, and sweats for game nights. For a beginner, buy a starter set with a rulebook. I also really love selecting from the best D&D books which help anyone in a creative rut. Of course, D&D needs dice to play, so check out the best dice for D&D which is a great fit for just about anyone!
Final Thoughts
Dungeons and Dragons is an amazing franchise, and that shows through all the great merch-hoodies included. What I love about these DnD hoodies is that you can show off your enthusiasm for the game- and keep comfortable, no matter what game night brings.
Of course, don't forget your other accessories, too. If you pick one of these hoodies and want something to add to your collection, check out more of my favorite D&D gift ideas for anyone.
Final Recommendations
Not sure which of these D&D hoodies is the best fit for you, or whoever you're gifting? While I could argue for any of these ideas, my top recommendation is Dungeons & Dragons Ampersand Logo Hoodie.
This is one of the most striking yet versatile hoodies- and it captures the imagination and excitement of DnD. The classic fit works on just about anyone, the price is fair, and you have a few classic colors to choose from.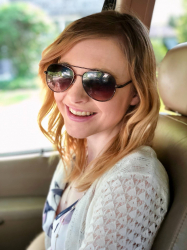 Latest posts by Erin Jamieson
(see all)