Autumn will be here soon and it will be time to go back to school. Kids will be flocking to the stationary store to get the latest pencil cases, notebooks, and, of course, backpacks. If you're reading this, you have a special someone that is really into Dungeons & Dragons. Even better, maybe you are that special someone!
Wearing the best DnD themed backpacks says two things about you. One, you play Dungeons & Dragons. Two, you're ok with advertising it, because you're proud of who you are.
Why not? LinkedIn founder Reid Hoffman partially attributes Dungeons & Dragons to his success. Famous actors like Vin Diesel and Terry Crews are also players of the game.
Bottom Line Upfront
D&D backpacks can be great for school but there's more than one purpose for this apparel. Gaming is front and center, then school, and then maybe something else.
Part of the success of the game is the fact that players have a multitude of options, more than any CRPG could possibly have. Ideally, the consumer should also have multiple options.
While I can't possibly provide consumers with the same number of options as your character has access to this classic tabletop RPG, I can definitely give you a range that can be suited for your purpose.
Top Picks at a Glance
I've broken down my picks into different categories for the needs of the consumer. D&D has been around for nearly 50 years and there's a wide range of fans out there. Hopefully, my article will find something for everybody.
Café Culture
School
Gaming Sessions
Lunch bags
Drawstring bags
Mini backpacks
Dungeons & Dragons Retro Backpack (The Red Dragon Backpack)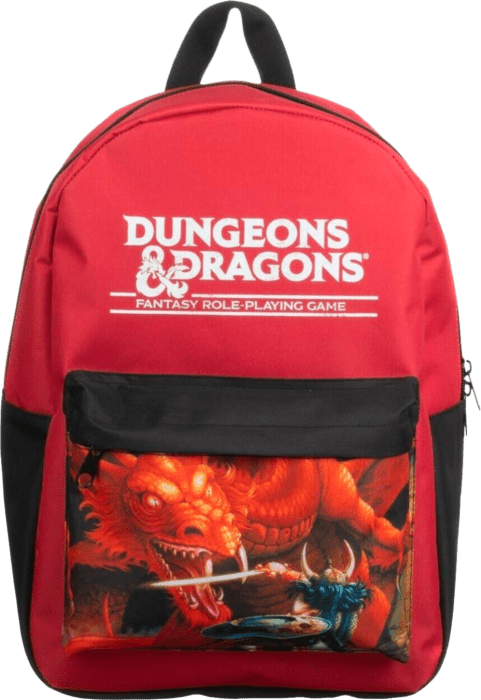 Bioworld has its own Dungeons & Dragons Retro Backpack. I call it The Red Dragon Backpack because of its iconic image. This might be a better fit for X'ers and boomers because like the name says, it's retro. The design is inspired by TSR's Basic Rules Set 1 (3rd Revision) boxed set, first released in 1983. The artwork is by Larry Elmore, who's best known in the RPG world for his cover art on R.A. Salvatore's novel The Crystal Shard of the Dark Elf/Icewind Dale series.
The backpack has the simplest of designs: shoulder straps, zipper enclosure, and only 2 pockets (a front pocket and an internal pocket for a laptop). Its materials are polyester and pp webbing, and its dimensions are 16 inches height by 11.25 inches width by 4.5 inches depth.
If you buy this pack, you're literally wearing a piece of D&D history on your back. That's great for the retro crowd. Whether or not the current crop of youngsters would appreciate it is a question I'll leave to you, the buyer.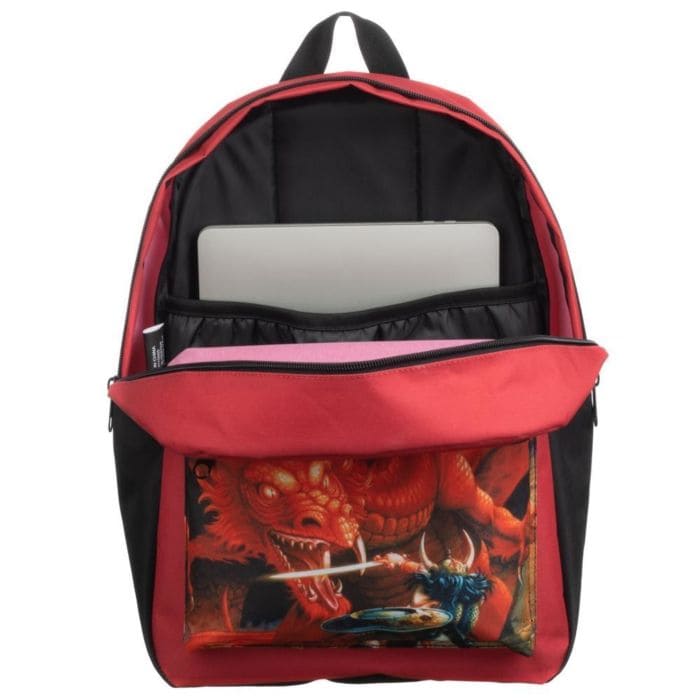 My opinion is that this product is ideal for the right niche only. In addition to the retro-for-youngsters issue, this product might not meet the functionality demands of the back-to-school market. Being a kid is hard work. You have to tote around heavy textbooks, sharp pencils, expensive notebooks, leakable whiteout, and LUNCH. all while rushing to class before the bell and hopefully not having to dodge any bullies.
A functional backpack needs to be very strong and have a plethora of extra pockets, compartments, and features. I'll talk about such backpacks right after this one.
Even DMs (dungeon masters) might not be right for this product in terms of functionality. A DM's backpack has to, above all else, be durable. Most D&D rulebooks are in hardcover: Player's Handbook, Dungeon Master's Guide, Monster Manual, Tasha's Cauldron of Everything, Sword Coast Adventurer's Guide, Modernekainen Presents: Monsters of the Multiverse, etc. That's going to get pretty heavy and you need a ruck as rugged as the party of adventurers you plan to slaughter with your Tomb of Horrors-style meatgrinder of a dungeon!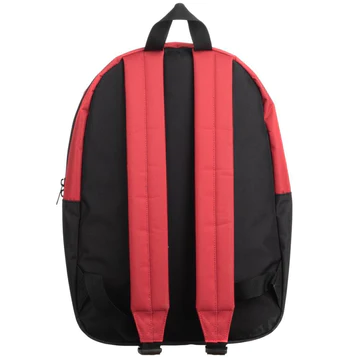 Furthermore, like the youngsters, you need ample pockets and compartments for pencils, graph paper, D&D dice in their various shapes, and other tools of the trade. The ideal DM's backpack will also be discussed in this article.
Who is this backpack right for? OGs like me, that's who? I was there in the 1980s with this boxed set came out. I've seen it all from 1e to 5e and I'm still here. This isn't my gaming ruck. This is my cappuccino backpack when I'm in the café with my laptop looking for inspiration to write an article like this one.
Like a bard in a Sigil tavern, the capital city of the Astral Plane, I frolic and spin yarns to those adventurers lucky enough to listen. Hipsters and gamers, wild bikers and lost souls, one and all, they see my pack and know that there are stories in those pockets. My load is light, a laptop, some pens, and a hardcopy notebook. The cappuccino flows, as do the tales, and all are happy.
Not happy at $69.99, however, which is what this product retails for on Popcultcha.com. It is, however, a good value at $26.99 on OfftheWagonShop.com.
Interesting Read: Comprehensive Guide to DnD Merch.
Giving this Backpack as a Gift
This backpack would be a great fit for:
Those who can appreciate the full history of D&D. That's, generally but not always an older crowd.
Those who are not planning to carry a half-dozen hardcopy books at once.
Pros
High appeal for the retro crowd
Bioworld is a licensed brand
Cons
Limited space and compartments
Design may not be as durable as some other schemes
D&D Ready To Roll Backpack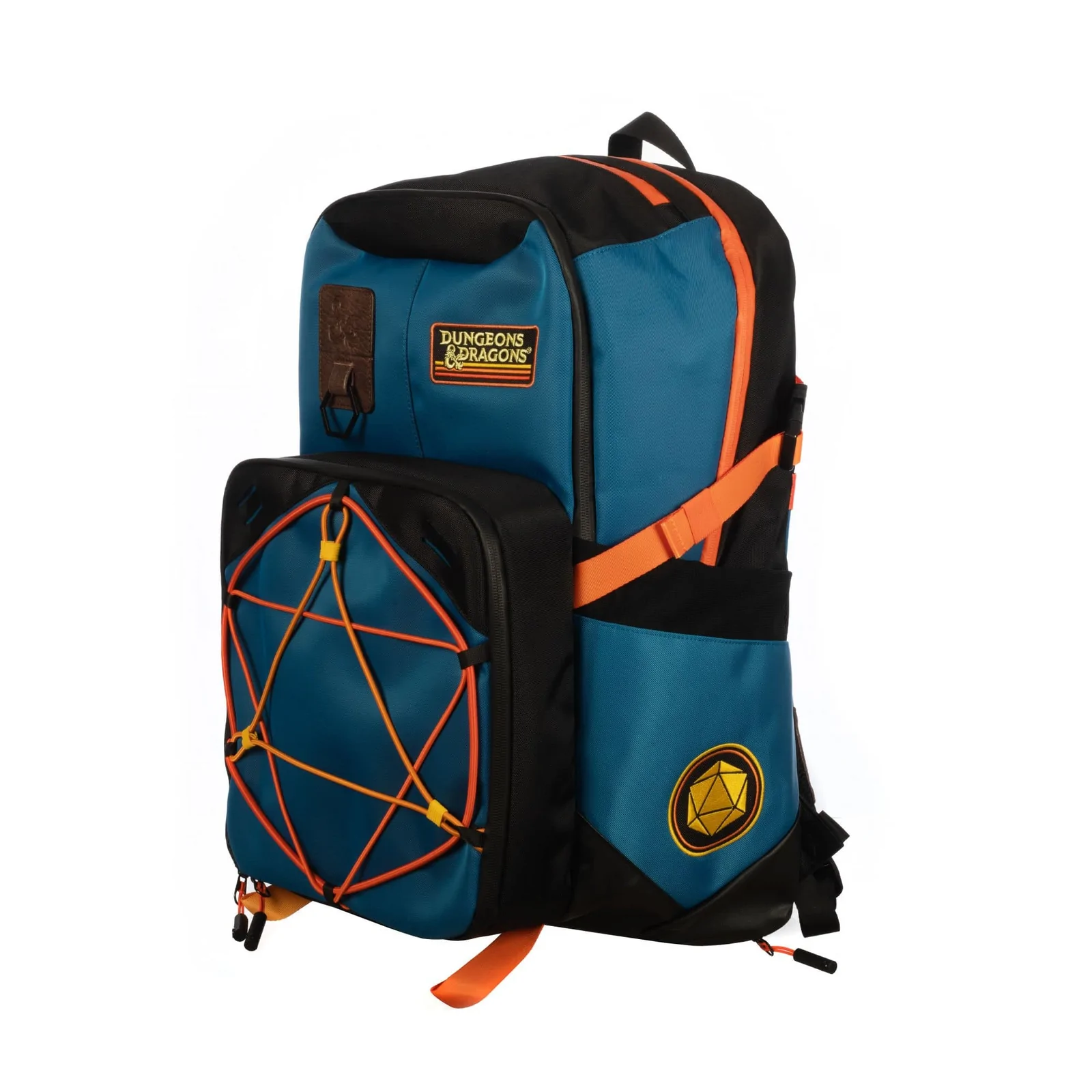 Compared to superheroes and science fiction, tabletop RPGs are still a smaller market. But as the market grows, so will the D&D merch selection. What I can say about the D&D Ready To Roll Backpack is that it meets the requirements of the back-to-school crowd and that its manufacturer Heroes & Villains is a licensed brand.
While not quite as tall as the Red Dragon Backpack above, it's wider and deeper. Its dimensions are 15" W x 20" H x 10" D.
Rather than polyester, its materials are durable with its heavy-weight nylon build and PU leather patch and pockets.
Its compartments also have more options than the backpack above: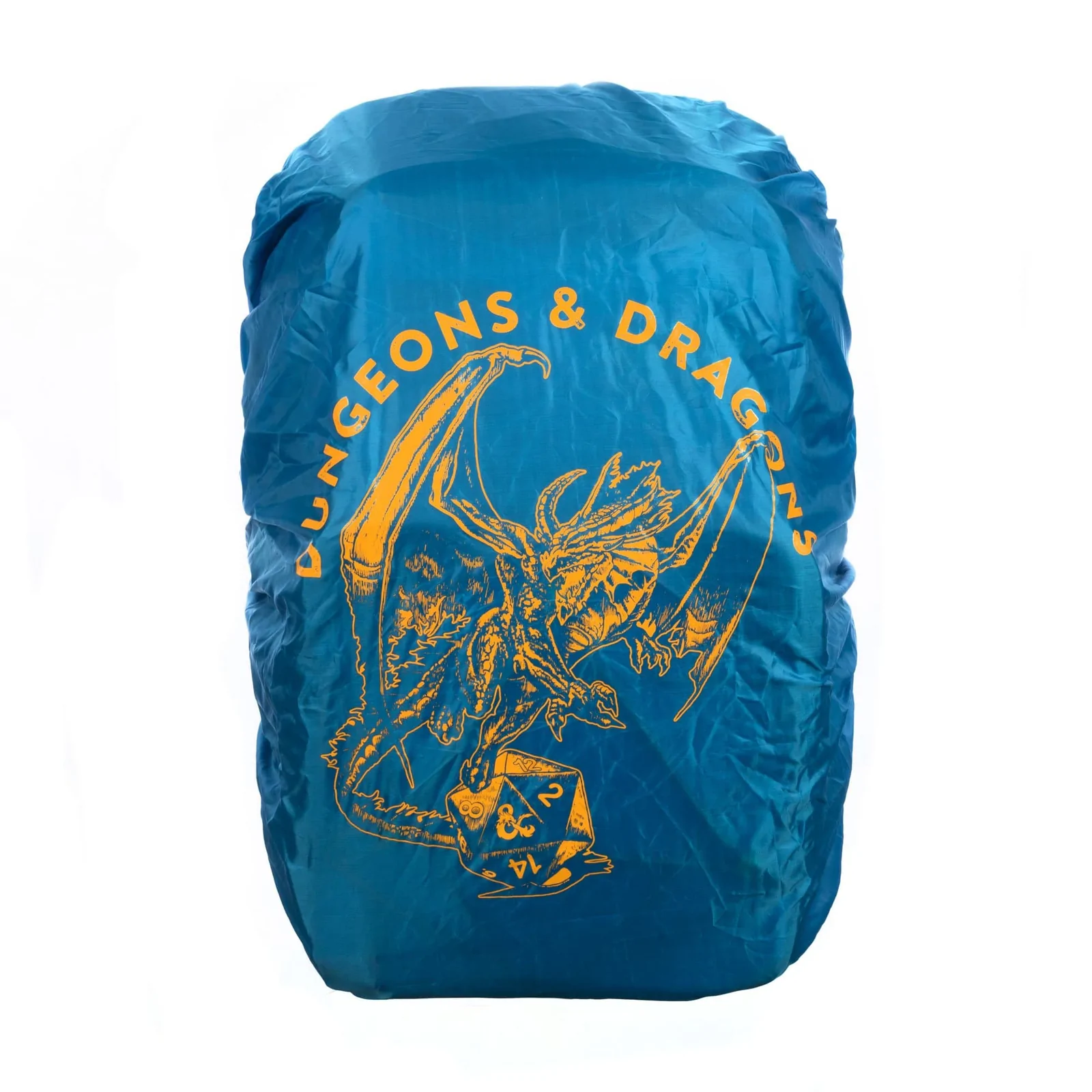 Padded laptop pocket
Padded vault for miniatures and internal adjustable dividers
Snap out dice tray
Inner organizational pockets
Additional features include:
Adjustable shoulder straps
Air mesh back panel
Rain cover
At $130, it's not a bad multi-purpose item. Kids can take it to school and fill it with their books and laptops and educational supplies while broadcasting their love of the game to their peers.
On the other hand, it has compartments specific for D&D, so they could use this backpack to cart the gaming gear to their adventuring sessions.
Giving this Backpack as a Gift
This backpack would be a great fit for:
D&D fans that are still in school
Light gamers that may carry 1 or 2 hardcover playbooks
Pros
Looks like a school backpack with good durability
Cons
It's a little expensive considering that there are larger bags that are probably equally if not more durable
Trunab Tabletop RPG Adventurer's Backpack (The DMs Ruck)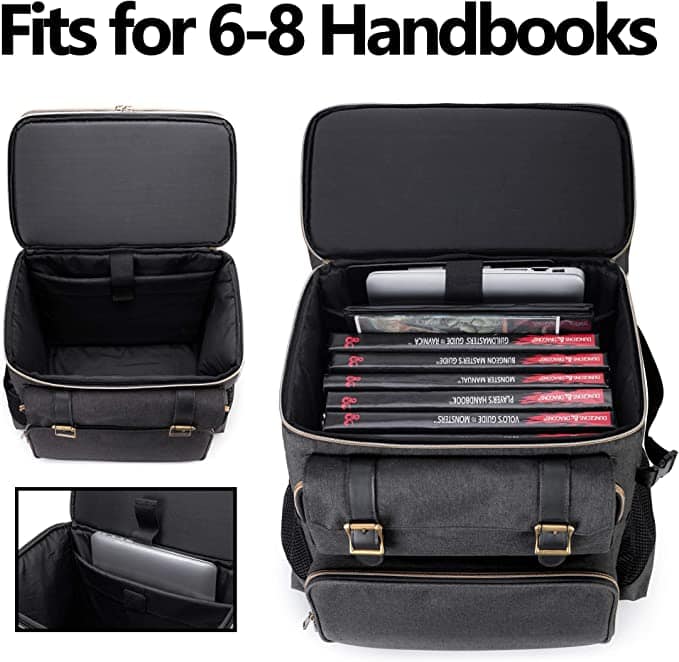 Some DM's with light wallets like to carry a light load. For them, all they need are papers, pencils, dice, the dungeon module for the day, and the two most important tomes: Player's Handbook and Dungeon Master's Guide.
The serious Dungeon Master, however, might need a bag that is more D&D specific. That's because, depending on how deep your game is, you could be carrying a lot of stuff. In addition to all of the above, miniatures, battlemaps, DM screens, character sheets, graph paper for mapping, etc., are all considered signs of a well-organized DM.
And then, there are the books. Those that want a really deep game don't want to be limited by the dozen or so classes and races in Player's Handbook. They might want prestige classes or new spells or new monsters.
To play that kind of game, the library of books you'll need to carry around includes but is not limited to the following: Monster Manual, Tasha's Cauldron of Everything, Sword Coast Adventurer's Guide, Modernekainen Presents: Monsters of the Multiverse, Mordenkainen's Tome of Foes, Xanathar's Guide to Everything, Volo's Guide to Monster's, and Fizban's Treasury of Dragons.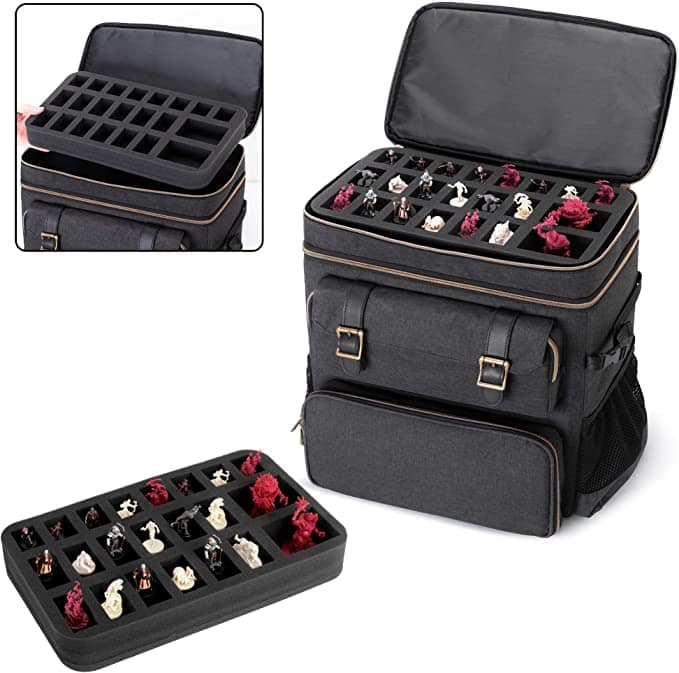 Would you like to go deeper? That's 5e (fifth edition). This game has been out for almost 50 years. There are so many books from so many editions, you can really break your back if you want to. Part of the staying power of D&D over other RPGs is its use of the multiverse of Inner Planes and Outer Planes: the Astral Plane, the Nine Hells, the 666 Layers of the Abyss, the Positive Material Plane, the Plane of Steam, the Plane of Radiance, the Void, Mount Celestia, the Plane of Concordant Opposition with its capital at Sigil, etc.
Each plane has its own geography, monsters, societies, and deities. There are other continuums like the Wild West, the Weird West, Steampunk, Cyberpunk, and Space Operas like Star Wars. Don't forget super-heroes and super-villains. An experienced DM knows how to convert from 1e to 5e, or even from Pathfinder, GURPS, and I.C.E. Some DMs literally carry around multiple books from multiple editions and gaming systems in addition to their homebrewed stuff. I know I've done that for some of my DMing across the decades.
I believe that the Trunab Tabletop RPG Adventurer's Backpack at least attempts to create a true DM's Ruck.
Just to give you an idea of Trunab's durability, they actually make first-responder bags for paramedics, medical technicians, etc. If those bags were to rip apart on a 911 call, I could only imagine the lawsuits.
Its storage capacity includes:
Its main compartment has space for 6-8 hardcopy D&D playbooks like those mentioned above. That same compartment also has additional pockets for laptops.
The top compartment is a storage case for miniatures. It contains a pre-cut foam grid with 22 boxes to protect each miniature from damage.
2 front pockets and side pockets
The battle map storage bag is a drawstring tube configuration that fits in the side elastic net pocket and is secured with a quick buckle strap.
For ease of carrying, the backpack sports an adjustable ergonomic padded shoulder strap with buckle chest strap and waist cushioned support. The DM's load can get pretty heavy, so the better the ergonomics, the better the Dungeon journey over time.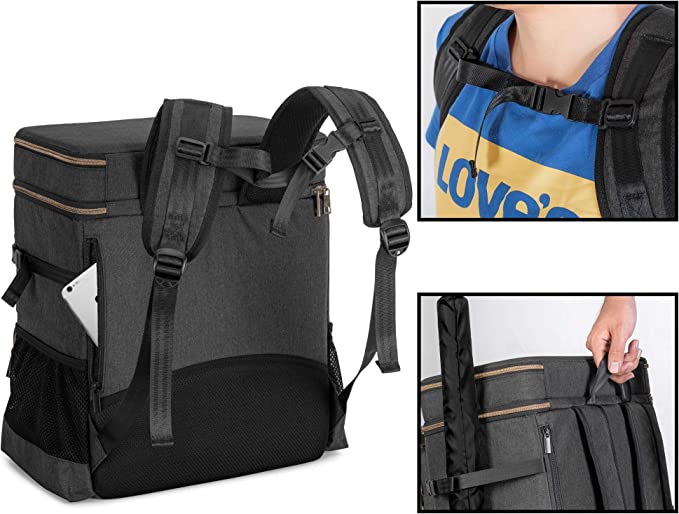 At $79, it's actually a better value than the Ready to Roll Backpack above. It has more space and I imagine at least as much durability for two-thirds the price. The only advantage Ready to Roll has is that it looks like an actual backpack and is, therefore, more appropriate for the back-to-school crowd.
The Trunab Tabletop RPG Adventurer's Backpack won't help your youngster blend in at the lunchroom because it looks nothing like a backpack. It looks like a cube with shoulder straps that would be used by a food delivery service like Uber Eats.
For functionality and a great, however, you can't beat it. Sometimes, the path of the Dungeon Master must be a lonely one.
Giving this Backpack as a Gift
This backpack would be a great fit for:
Serious gamers, especially DMs
Pros
Great storage capacity and apparent durability
Cons
You look like you have a huge food delivery box strapped to your back or even worse, a gelatinous cube…
Insulated Dungeons & Dragons D20 Lunch Bag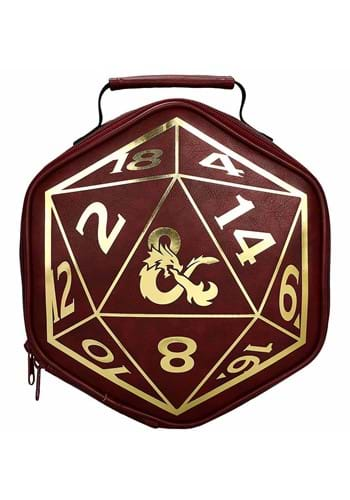 Technically, this is not a backpack, but I know the D&D crowd and this is too good to pass up. This lunch bag is shaped like a 20-sided die. This is the die (singular for dice) that is rolled throughout the game to determine various outcomes that are partially determined by chance:
Whether or not you hit an opponent
Whether or not you are able to resist a spell being cast on you or the harmful effects of some event, what we call a "saving throw"
Whether or not you are able to pass a test of one of your abilities (Dexterity, Wisdom, Constitution, etc.), what we call an Abilities Check
Dungeons & Dragons has forever changed our notion of what dice are. Cubes with dots have been replaced by a variety of 3-D geometrical shapes with their dots replaced by numbers.
In addition to cubes, the game has 4-sided pyramids and other shapes that are 8-sided, 10-sided, 12-sided, and 20-sided. Therefore, the 20-sided die, based on an icosahedron, represents the die with the greatest number of sides and, therefore, the most possibilities.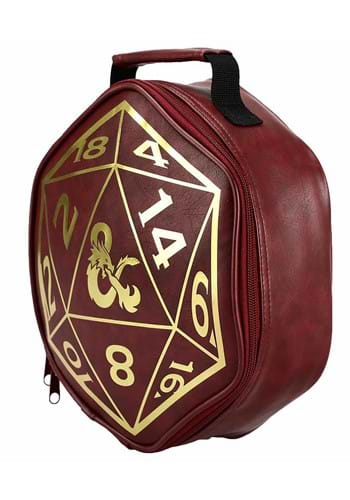 If you want one image to serve as a symbol for D&D, you can't get any better than a 20-sided die. That is why a lunch bag in the shape of a 20-sided die is worthy of mention. Its characteristics include:
100% polyurethane faux leather outer shell
Moisture-resistant insulated ring
2-way zipper closure
Webbing carry strap
Outer dimensions: 9" long x 9" wide x 2.5" thick
Printed graphics
Official licensing
Giving this Backpack as a Gift
This backpack would be a great fit for:
Students
Anyone who still brings a lunchbox to work (D&D construction workers?)
Pros
Great design for those who love the game and its 20-sided die
Cons
A lot of people today just put their lunch in their bookbags or order food from a cafeteria or restaurant
Bag of Holding (Handmade)
D&D aficionados will know what a Bag of Holding is. The reason why player characters explore dungeons and fight dragons is so that they can gain treasure and level up (become more powerful through experience). The most coveted form of treasure is a magic item.
A Bag of Holding is a magic item that can hold anything regardless of size or weight. The bag is actually a gateway to an extra-dimensional pocket. It's a great place for storing things and even people.
For those who want to see how a Bag of Holding is depicted in film, Dungeons & Dragons 3: The Book of Vile Darkness has a scene where the hero, a lawful good paladin, uses a Bag of Holding to hide the body of a large party member that he betrays and drugs with a sleeping potion.
Starting with the feet, he slowly feeds the entire body into the bag and then tosses the bag into a nearby pond to make sure that the unfortunate barbarian drowns, unbeknownst to the other members of the party.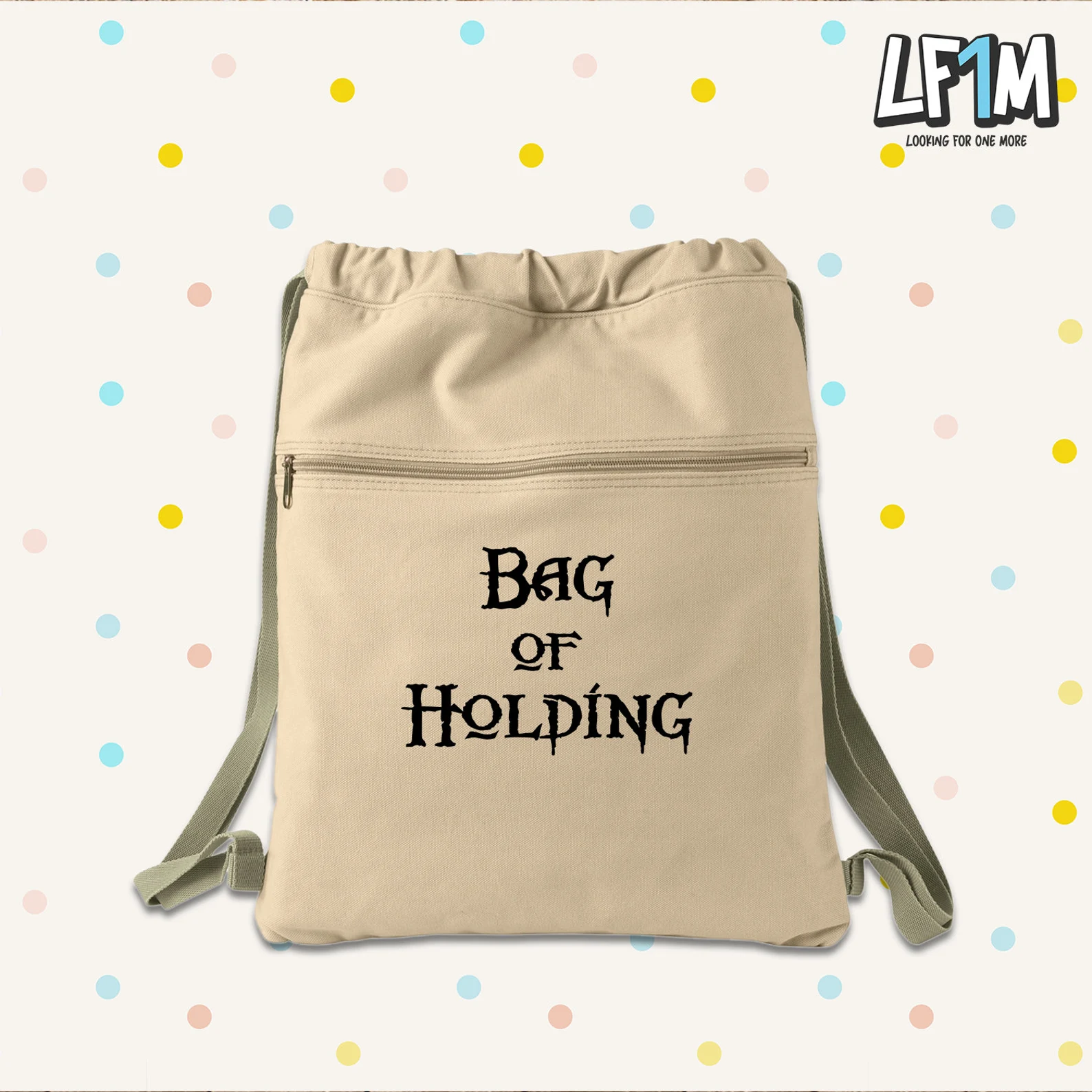 While those are the properties of an actual Bag of Holding in D&D, the manufacturers of this Bag of Holding do not guarantee access to extra-dimensional gateways or any other magical properties at this time.
If you want to drown drugged barbarians in the real world, you'll have to find a means other than this product! The Bag of Holding that you can purchase online has the following properties:
100% cotton canvas
Heavy enzyme-washed
Cotton webbing straps
Drawstring
Zippered front pocket
5" x 14.5" x 1"
Handmade
Color options in dark brown or light tan. Even in D&D, you usually don't have the option of choosing the color of your magic item.
Please note that all Bags of Holding are made to order and they do not carry stock. Please check the processing time before you finalize your order. If a Rush order is needed, you can message the manufacturer and it can usually be done. (Potion of Haste)
Giving this Backpack as a Gift
This backpack would be a great fit for:
People who just want a simple drawstring bag
People who want a D&D purse
Pros
Funny allusion for those who understand the game
Practical and simple for those who like drawstring bags
Cons
Not designed for heavy loads
No extra-dimensional pocket
Stranger Things Demogorgon Pop! Mini Backpack
In the interests of full disclosure, I'd like to address any D&D fans that are not familiar with Netflix series Stranger Things. The show revolves around young people that actually play Dungeons & Dragons and borrows heavily from D&D lore: Vecna, mind flayers, and Demogorgon.
However, if you buy the Demorgogon Mini Backpack from Stranger Things please understand that you are not buying a backpack that depicts the Demogorgon from D&D lore. The D&D Demogorgon, as one of the most powerful demon princes of the 666 Layers of Abyss, is basically an evil deity and one of a kind.
The demogorgons of Stranger Things are an extradimensional species. While powerful, they would be mere mosquitoes to the actual Demogorgon of D&D lore. Vecna and the mind-flayers of Stranger Things have also been repurposed for the show's creator and are a great departure from D&D lore.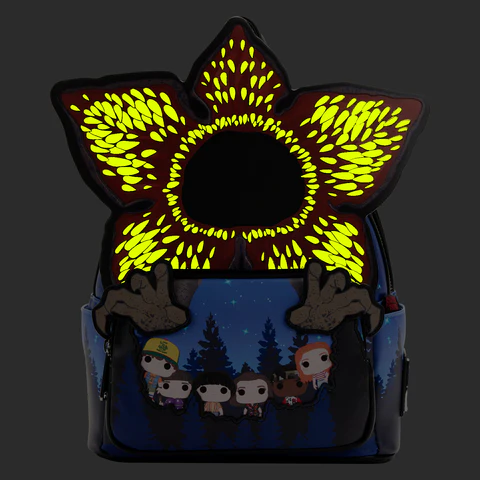 If, knowing that, you still consider this product to be a legitimate D&D backpack or mini backpack, I think you will be pleased. Loungefly is an excellent brand, one of the best in the merch business, so durability and quality are not issues.
The best part is that the mini backpack comes with its own surprise, a mini demogorgon. This figure glows in the dark. Please note that this product is already out of stock due to popular demand, but may or may not be restocked in the future.
Also, note that neither Loungefly nor Netflix accepts responsibility for any abuses committed by your demogorgon including but not limited to the following:
Eating your family
Injecting your body with a larva and forcing you to be its host
Flaying your mind
Dragging you and/or your loved ones through an extra-dimensional gateway
Compelling any members of your community to be Vecna's thrall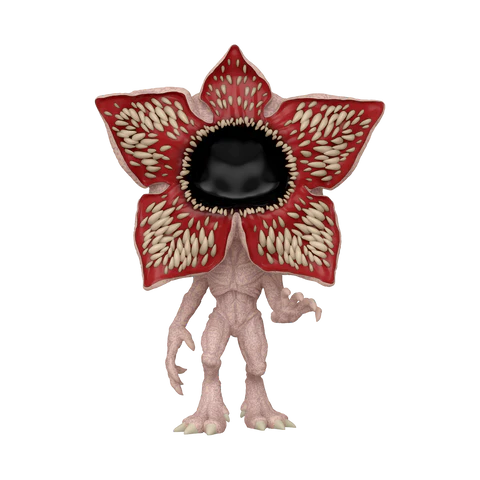 Here are the specs:
Officially licensed Netflix product
Dimensions: (not extra-dimensional gateways) 9" W x 10.5" H x 4.5" D
Fabric: vegan leather (polyurethane)
Adjustable shoulder straps and sturdy metal hardware
Applique, debossed, printed, and glow-in-the-dark details
Coordinating inside lining
Funko Pop! Demogorgon vinyl figure, 5.25"tall, that glows in the dark
Giving this Backpack as a Gift
This backpack would be a great fit for:
Stranger Things/D&D fans that use mini backpacks
Those, including guys, who want a purse that could be strapped to their backs
Pros
Great manufacturer
Great added surprise
Convenient for phones, keys, and just small stuff in general
Cons
Limited load capacity
May no longer be available
Not adhering to D&D lore
Having your mind flayed or being host to a demogorgon worm larva can really suck
FAQs
Question: Are there Dungeons & Dragons Backpacks for Adults?
Answer: Absolutely. Most Dungeons & Dragons are designed in a way that appeals to all age demographics.
Question: What is the best material for backpacks?
Answer: Popular and durable materials include polyester, polyurethane, and canvas.
Question: Who makes the best merch backpacks?
Answer: My colleague Candace Osmond has an excellent article about Star Wars backpacks. In her opinion, Loungefly is the best manufacturer for that type of merch. Outside of their Stranger Things product, Loungefly hasn't really attempted to penetrate the Dungeons & Dragons market yet. That may change after the film Dungeons & Dragons: Honor Among Thieves comes out.
Conclusion
When I was growing up, Dungeons & Dragons was seen as a time-waster for nerds in the basement. A lot has happened since then, and the nerds have left the basement and they may not have been wasting their time after all.
If you or someone you love is going to spend a lot of time on this game, especially in one's formative years, my advice is not to stay in the basement. Don't hide D&D as some guilty pleasure; strap it to your back and tell the world that this is who you are with no fear of what they think.
Take it from an old timer who's been in the game for decades. Playing the game isn't a waste of time, but hiding from the world is a waste of life. Life's too short to hide. Whether you buy these products or not, please, celebrate your life, in and out of the game.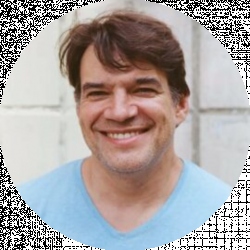 Latest posts by David Blanc
(see all)