You watch as your javelin soars through the air and pierces the dragon's thick hide. As it plummets to the ground with your d6 damage die, you realize that if we're being honest, you probably won't be able to throw a spear in real life. Luckily, the world's most famous tabletop roleplaying game has allowed everyone the chance to do the daring and unthinkable since 1974. Dungeons and Dragons uniquely enables everyone to experience being an adventurer and play with their imagination in the world of tabletop.
One of the most important and interesting things about the game is the items you can find there. While many exist in the real world, Dungeons and Dragons often have a unique spin that takes a moment to understand. Whether in terms of how these are converted to the game world, or the magic item version, all players are inherently interested in discovering and playing with their toys in the game.
But not everyone knows just what specific aspects of items mean. New players often leave the game because of an overload of information. A guide to certain things in Dungeons and Dragons is in order. 
Right now, let's start with one of the earliest weapons man ever mastered, a sharp pointy stick to hurl at your enemies. This Javelin 5e guide will be all about this Dungeons and Dragons weapon. Expect to find out how the game carries this over from real life, the different places you can expect this and how to use it, and more importantly, how to stick 'em with the pointy end. 
The Javelin: Pointy from a Distance
The javelin is a weapon item in Dungeons and Dragons. As it goes, there are multiple weapons in the game, but the spear occupies a unique niche among all of these. Before we get to those specifics, you need an understanding of how weapons work in the game. 
Weapons represent items in the game that can be used to do damage. Normally they have real-life counterparts in the real world. Sometimes, however, the weapons are random items you want to use to whack a goblin's head off. Javelins are based on real-world weapons or throwing spears. 
Interesting Read: Comprehensive Guide to Spears in DnD 5e.
In the game, they are classified as simple melee weapons. This is because weapon categories are divided into the expected level of proficiency one can have using a weapon. Improvised weapons are things people randomly use to hit things, while martial weapons are weapons only a trained fighter can be expected to use well. A simple weapon is designed for use as a weapon but doesn't require much training to use. This is where the spear lies, as the weapon concept is intuitive enough. 
For further comparison, a javelin requires less training than a bow to hit a target. Besides being a large dart, a weapon is a stick with one end that hurts. It doesn't take much for someone to figure out that they can keep swinging to eventually do some damage. 
Secondly, weapons deal damage in the game as damage die. Similar to how a person's health is randomized within certain bounds by a hit die, the amount of damage they take also varies. Weapons differ in the damage they deal, but for the simple weapon, you can expect them to take a d6 amount of damage. 
This makes the weapon quite deadly to most people in the world of D&D. For context; most people are expected to have around four to five hitpoints. A spear to the face is going to hurt even at its lowest damage variant. With the additional damage from the strength modifier of the person throwing it, the javelin becomes a deadly killing tool.
Sure, the javelin is not as appreciated or picked as other ranged weapons in the game, such as bows, crossbows, and firearms. But they are still a flavorful and versatile pick for any situation. Notably, javelins were the weapons of choice for some of the deadliest warriors the world ever saw. 
If you want to build a character to emulate old warriors, then few weapons can compare to the javelin. So read on as we cover the item's base stats in the game and how you can use it to deadly effect. 
Javelin Item Guide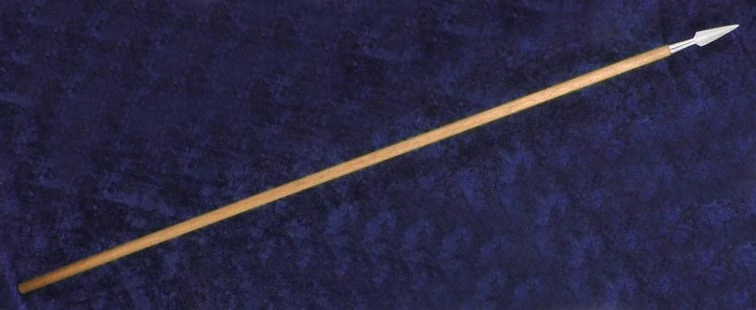 Now that you have the basics of weapons and how the javelin measures up to other weapons, let's talk about what makes the javelin unique. Down below, you'll find out where to acquire the weapon, how much it usually costs, and the properties of the weapon. 
Starter Weapons
The javelin can be found in the game's initial builds of many weapon-based classes. Notably, you only get a javelin by selecting it as part of your character's starting items. This can be done by selecting it whenever the equipment calls for you to choose a simple melee weapon or has a set of javelins as part of the choices. 
Most starting classes have proficiencies in simple melee weapons and, thus, javelins. Sorcerers and wizards are the notable exceptions of not having proficiency. Regardless, not all the classes can select a javelin as a starting weapon. The barbarian automatically gets four javelins, and the paladin gets five, no questions asked. Meanwhile, sorcerers can choose a javelin, but lack proficiency in them, resulting in a less powerful starting point. Fighters, rogues, and wizards cannot select a javelin as a starting item, even though fighters and rogues are proficient with them. Finally, the other classes can choose a javelin, but usually at the expense of another class-proficient weapon.
Straight from the Shop and Elsewhere
If you can't find a javelin in your starting equipment, don't worry. Most weapons are purchasable in weapon shops for a price. So unless your DM hates the weapon and always has it out of stock, you'll be able to buy one instead.
Alternatively, you can choose to craft your javelin if you have enough time and the tools to create one. Check with your DM for what skill checks you might need to go through and what tool proficiencies you require. Druids in-game traditionally make javelins out of alder wood, so feel free to have your personal touch in crafting weapons.
If everything else fails, pick up a javelin off a dead enemy, or steal it from under their noses. Better you use it than them, that's for sure.
Item Properties
Once you have your javelin, let's go over its unique properties. These in-game mechanics ensure that your play is as realistic as possible. Plus, it'll help to remember these properties once you're in the thick.
Range
A javelin has a range of 30/120 ft in the game. These two numbers are found in all ranged weapons and indicate the weapons' effective range and maximum range. An effective range is how far you can throw a javelin with a certain degree of accuracy. Within this range, the only thing influencing the attack roll is the d20, your proficiency, and your strength modifier. Of course, you can also choose to stab your enemy when they get up close within five feet.
On the other hand, a maximum range indicates how far you can throw the weapon. How far you can throw it is not indicative of if you hit something. Throwing it at such a distance does trade off accuracy for your weapon. Because of this, attacking will come with disadvantages to your attack roll. You must roll the d20 twice, take the lower roll as your attack roll, and add your modifiers.
Damage
A d6 damage dies, as discussed previously, is rather lethal to most people. Many monsters, however, have beefy life totals, so expect to chuck more than one of these to bring them down. 
As a simple weapon, javelins do not deal as much damage. The most dangerous weapon is the greatsword with 2d6 damage, while martial weapons deal d8 to d12 damage. Most simple weapons deal d6 damage but are cheaper and more accessible to players. 
Throwing property
The throwing property is what makes the javelin unique. The javelin is built for throwing and has a broader range than the spear. This makes it helpful to deal with threats at a distance and gives you a backup when things come near.
To utilize the thrown property of the javelin, simply declare that you are throwing it, note the rage of your target, and attack as usual. If you missed it or not, you can still pick up the javelin to throw again for nearly unlimited ammunition!
Cost
Javelins, except magic javelins, are cheap in the game. The javelin cost about five silver pieces, costing about as much as a blanket. That makes it perfect for buying multiple javelins at a time. 
Compared to other weapons, javelins are extremely cheap and can be spammable. A spear costs nearly double at ten silver pieces or one gold piece but the same damage if one-handed. This makes the javelin a cheap but effective tanged alternative if you don't have money or the proficiency in buying a bow.
Weight
A javelin weighs around 2 pounds in the game. Item weight is always a touchy subject in Dungeons and Dragons because it adds realism that not everyone is welcome to. As a result, this shouldn't matter that much unless you have a strict DM who refuses to give you a bag of holding or carry every single item you've ever encountered in-game. 
Fighting Underwater
The last item you should note about the javelin is that it is perfect for fighting underwater. When doing underwater melee, creatures who don't have natural swimming speeds have disadvantages on most melee attacks. A melee attack with a javelin ignores this nerf.
Additionally, when underwater, most ranged weapons miss automatically when attacking beyond their normal range and have a disadvantage at normal range. Once again, the javelin ignores these and allows you to attack normally. Perfect whenever you are dragged to the deeps and have to face off against underwater monstrosities. 
Magic Javelins: The Javelin of Lightning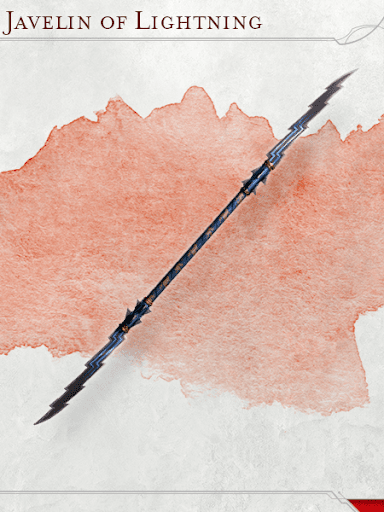 So far, the Dungeon Masters Guide has one magic javelin with a unique property. There may be +1, +2, and +3 javelins, but this is maybe the most unique of them all: the Javelin of Lightning.
The javelin of lightning is a unique magic item with the unique property of transforming into a bolt of lightning. When you throw it and speak its Command word, it transforms into a five feet wide bolt of lightning, extending from you to a target within 120 feet. 
Each creature in the line, excluding you and the target, must make a DC 13 Dexterity saving throw and take 4d6 lightning damage on a fail. Meanwhile, when your attack roll hits your target, the javelin returns to normal and deals 4d6 lightning damage plus the javelin's normal damage. This property can't be used until the next day.
First, based on flavor alone, this javelin is a masterpiece. You are hurling a lightning bolt and destroying anything caught in its path. Sure, it's a once-a-day thing, but the coolness factor remains forever. 
Javelin Character Builds: Striking True
Let's take a look at the best ways to use this deadly tool. However, it is essential to note that you'll likely need a javelin-specific build to make the most out of the javelin and all its properties.
Classes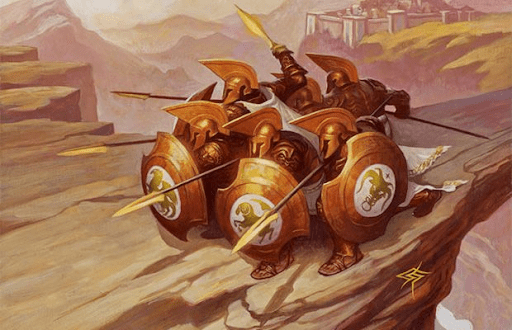 The best builds begin with your class. Some builds are more naturally suited to hurling javelins than others. Don't expect a caster to throw javelins unless necessary. On the other hand, expect martial classes to dole out javelins with extreme prejudice.
Here are some of the best classes in the game suited to wield javelins. As we discuss each of them, you'll find out which playstyle is the best for you.
Martial Classes

Blade Pact Warlocks

Bladesinger Wizards

Kensei Monks

Multiclassing
These classes are all proficient with using the javelin but have significant ways to boost their damage. Furthermore, some types have added utility to ensure they can keep hurling their weapons. Let's take a closer look at them down below. 
Martial Classes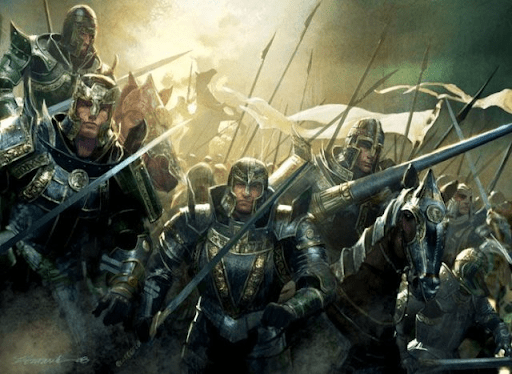 The martial classes in D&D are the Barbarian, Fighter, Monk, Paladin, Ranger, and Rogue. They are committed to using their weapon mastery to deal devastating damage to the enemy. For this section, let's focus on the Barbarian, Fighter, Paladin, and Ranger. What makes them great is that they all have an innate fighting style to supplement their javelin use. 
These classes can pick the dueling fighting style to get a +2 damage bonus when they use just one melee weapon in their hand. This applies to the javelin, which is a one-handed melee weapon. The great part is that it is a melee weapon with the thrown property, so the +2 damage modifier still applies when used at range. Otherwise, they can also choose the thrown weapon fighting style if their DM refuses such shenanigans for the same damage bonus.
Some of the best ones here are Eldritch knights that can summon javelins back to their hands instantly with a bonus action if they have a weapon bond with it. Battle Master Fighters can use their bonus action through the Quick Toss maneuver to attack again. The eagle totem Barbarian can also dash as a bonus action to retrieve its javelins. Meanwhile, the Vengeance Paladin can use its opportunity attacks to move closer to where their javelins land, while Hunter Rangers can use volley to attack all creatures within 10 ft of an area with javelins.
To emulate some well-known spear throwers of ancient history, consider building a hoplite or a skirmisher using a battle master fighter. For the hoplite, get the defense and thrown weapon fighting styles. Choose the brace, parry, lunging attack, and quick attack options for your maneuvers.
As a skirmisher, choose the archery and throw weapon fighting styles. You want to be quick and mobile, so get the ambush, bait, switch, distracting strike, and quickly toss maneuvers.
Blade Pact Warlocks
Blade Pact warlocks are broken, and if you choose the Hexblade as a patron, then that doubles the brokenness of these spellswords. Blade pact warlocks can infinitely create a javelin as their pact weapon using the action on their turn. Perfect for if your javelin is too challenging to reach. 
The fun part comes with invocations like Lifedrinker, which gives your pact weapon javelins a damage bonus equal to your charisma. Even better is the improved pact weapon, which makes your ordinary pact weapon javelins +1 javelins. Finally, once you hit level 7, you get relentless hex to teleport to a target within 30 ft of someone cursed with hex, Hexblade's curse, or the curse spell using a bonus action. Now you can throw your javelin and teleport to where it is all in one turn!
Bladesinger Wizards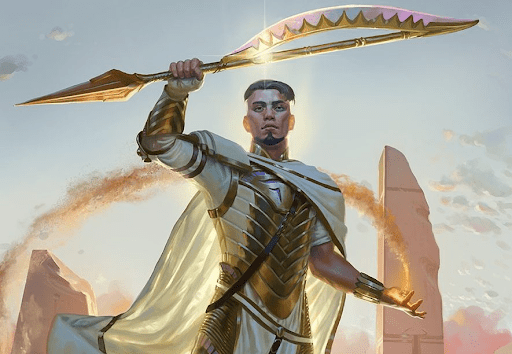 Blade singer wizards work well with the javelin because they can use it while activating their blade song. As long as they don't use a two-handed attack with it, which is unlikely to happen, they become an unstoppable magical duelist.
With their Bladesong active, Bladesingers gain a 10ft movement bonus, an intelligence armor class and concentration save buff and dexterity check advantages. This means you can activate your Bladesong and have enough speed to retrieve it while avoiding damage.
At later levels, the song of defense and song of victory allows you to add your Intelligence modifier to your javelin damage and to reduce damage almost wholly!
Kensei Monks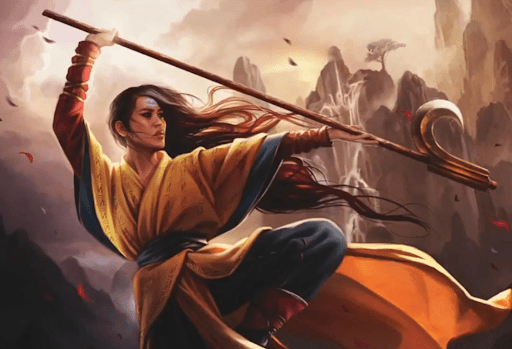 Kensei monks can deal much weapon damage with their class abilities due to being weapon-based monks. They can use a javelin to get a +2 ac bonus if they use an unarmed strike. In addition to unarmed defense, they can become almost untouchable! 
Using their One With the Blade feature, Kensei monks can turn normal javelins magical to overcome resistance. Plus, by spending a ki point, they can make their javelins deal extra damage equal to their martial arts damage. When all else fails, they can reroll a missed attack once each turn to strike true with their javelins. 
Multiclassing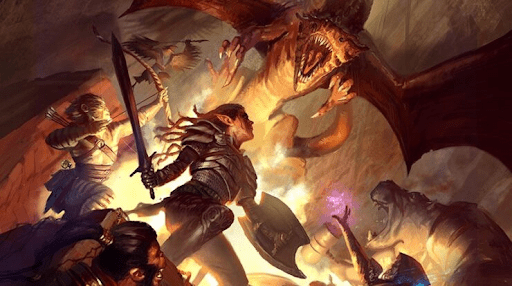 Of course, you can always choose to multiclass to get another class's javelin-throwing benefits. Here are a few of the best ones to multiclass into:
Three levels of fighter for Eldritch Knight

Three levels of Hexblade warlock for Pact of the Blade

Any amount of levels in Battle Master Fighter

Two levels in Bladesinger Wizard
Using these multiclassing options, expect to get the benefits of the classes above to run with your current class. This is perfect if you want to try wielding weapons as a spellcaster or as a non-combat character.
Feats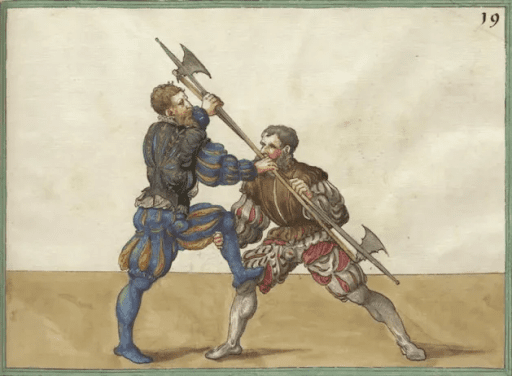 Feats are optional character features that characters can gain instead of increasing ability scores. Additionally, some classes allow you to take more feats when you advance in the class, such as with a fighter.
Feats are potent abilities, but not all of them work well with the javelin. Here are some of the best feats you can choose to optimize your build. Take note that these feats are spread out over different official sourcebooks for your reference.
Fighting Initiate

Martial Adept

Piercer 

Shield Master

Weapon Master
These feats allow you to benefit from the above builds without sacrificing levels in a specific class. These synergize well with a javelin playing style and allow you to maximize your damage.
The fighting initiate feat allows you to gain a fighting style of your choice if your class doesn't have one. This is perfect if you only need the extra +2 damage from dueling or thrown weapon fighting. That +2 damage adds up and with multiple javelins, expect to deal tremendous damage. 
On the other hand, the martial-adept feat saves you the 3-level multiclass into Battlemaster to get two maneuvers and one superiority die. Using this, your maneuver is used to gain a saving throw DC of 8+, your proficiency + your strength, or your dex modifier. However, consider getting the Quick toss and Precision attack maneuvers for your two tricks to get more accurate javelin throws in.
The piercer feat from Tasha's Cauldron of Everything is significant as that is your weapon's damage type. Using this, you get to reroll your javelin's damage die once per turn, deal one additional damage die when you crit, and add +1 to your strength or dexterity ability scores as a bonus.
The master feats of shield master and weapon master allow you to be a spear and shield specialist akin to ancient infantry. Weapon master would get you proficiency in javelins if you didn't have it. Meanwhile, Shield master allows you to shove as a bonus if you've attacked with your action. If you are the only target, you can add your Shield's bonus (+2) to your Dexterity saving throw. When all else fails, you can use a reaction to ensure that if you succeed on your dex saving throw to take half damage, you take none instead.
Frequently Asked Questions
Question: Are Javelins Counted as Polearm Weapons?
ANSWER: UNFORTUNATELY, JAVELINS ARE NOT COUNTED AS POLEARM WEAPONS FOR WEAPON MECHANICS LIKE POLEARM MASTERS. POLEARMS IN D&D ARE RESTRICTED TO THE GLAIVE, HALBERD, QUARTERSTAFF, OR SPEAR. UNLIKE THE JAVELIN, THESE POLEARMS ARE MADE WITH MELEE AS THEIR PRIMARY USE.
WHILE THE JAVELIN DOES NOT COUNT AS A POLEARM, THERE ARE MANY WAYS THAT THEY ARE MORE VERSATILE. A TYPICAL RANGE OF 30 FEET ALLOWS YOU TO HIT MOST ENEMIES AT A MORE EXTENDED RANGE. THIS IS PERFECT FOR HITTING FLYING ENEMIES WHO, ON AVERAGE, HAVE A FLY SPEED OF 30FT TO KITE YOU. 
QUESTION: WHERE CAN I GET MAGICAL JAVELINS? 
ANSWER: BESIDES THE MAGICAL JAVELINS FOUND IN THE DUNGEON MASTER'S GUIDE, YOU CAN ALWAYS ASK YOUR DM TO CREATE A NEW WEAPON JUST FOR YOU. A TAILOR-MADE MAGICAL JAVELIN IS UNIQUE TO YOU AND ADDS MORE DEPTH TO YOUR CHARACTER DEPENDING ON HOW THEY GOT THIS ITEM, 
IF YOU ARE A DM AND WANT TO CONSIDER CREATING A MAGICAL JAVELIN, YOU'LL HAVE TO TAKE A COUPLE OF STEPS. FIRST, DETERMINE THE RARITY OF YOUR MAGICAL JAVELIN TO DETERMINE HOW MANY PROPERTIES IT HAS. SECONDLY, CHOOSE SEVERAL PROPERTIES TO DEFINE YOUR MAGIC ITEM.
TRY FLAVORING OTHER MAGICAL ITEMS INSTEAD IF YOU WANT A GOOD PLACE TO START. ADD A NINE-LIVES-STEALER EFFECT TO A RARE JAVELIN WIELDED BY A DEATH KNIGHT OR AN EXTRA 2D6 FLAME DAMAGE FROM A JAVELIN FORGED IN A VOLCANO MADE OF PURE HEAT. OR, MAKE YOUR PROPERTIES AND SEE WHERE THIS LEADS YOU! 
QUESTION: WHY SHOULD I CHOOSE A JAVELIN OVER A SPEAR?
ANSWER: YOU'LL WANT TO CHOOSE A JAVELIN BECAUSE OF ITS SUPERIOR RANGE, LOW BUYING PRICE, WEIGHT, AND VERSATILITY. THINK OF IT THIS WAY; EVERY SPEAR IS AT LEAST TWO JAVELINS IN TERMS OF PRICE. YOU ARE GETTING DOUBLE THE DAMAGE FOR THE SAME AMOUNT OF GOLD! 
Conclusion
Get ready to conquer the battlefield and turn it into ruin with a rain of metal javelins. Hopefully, you've gained enough information from this to master the javelin, at least in the D&D world. You can expect more content to come out as Wizards of the Coast releases more adventures and additional guides. For more experienced adventurers, try creating your zany javelin builds and help new adventurers learn the weapon along the way.
With that being said, may your aim always be true and have an advantage; you'll certainly need it as your adventures come along. That's all from this retired adventurer, until next time, take care.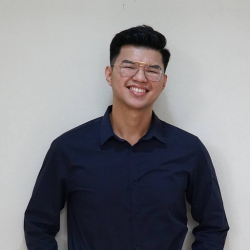 Latest posts by Matthew Du
(see all)