The silent forest hides the cabin of the Acererak's follower. You and your party have been following his scent for days, and you're near him. The smell of charred wood and decaying bodies fills the air. You see the light of the flaming skull in the distance and hear his mocking laugh. Your party prepares for battle, drawing weapons and preparing spells.
The skull suddenly turns and conjures a burning ball made of bones that grows between you and your allies. You all jump back and try to avoid the blazing threat, but the skull moves it back and forth, chasing you. You try to attack the floating head, but the Acererak's servant has his zombie minions blocking your path.
The flaming ball starts to burn all the forest as it rams you down and sets everything on fire. The last thing you hear before the whole area becomes your burning grave is the laugh of the skull and the crackle of wood around you.
Welcome to a Flaming Sphere 5e Guide.
Is Flaming Sphere a Good Spell?
Flaming Sphere is a powerful conjuration spell if appropriately used. I wouldn't recommend it if you're new to the game and especially if you don't like the tactical part of combat. Instead, I'll choose more straightforward options, some of which are mentioned further in the article.
Nonetheless, the spell is fun and thematic. For more experienced players, this spell is a blast.
What is "Flaming Sphere?"
As stated in the PHB (Player's Handbook), Flaming Sphere is a 2nd level conjuration spell. The casting time is one action, the range is 60 feet (5 ft sphere), and the duration is up to 1 minute with concentration. The Components are Verbal, Somatic, and Material. The effect reads as follows:
"A 5-foot-diameter sphere of fire appears in an unoccupied space of your choice within range and lasts for the duration. Any creature that ends its turn within 5 feet of the sphere must make a Dexterity saving throw. The creature takes 2d6 fire damage on a failed save, or half as much damage on a successful one.
As a bonus action, you can move the sphere up to 30 feet. If you ram the sphere into a creature, that creature must make the saving throw against the sphere's damage, and the sphere stops moving this turn.
When you move the sphere, you can direct it over barriers up to 5 feet tall and jump it across pits up to 10 feet wide. The sphere ignites flammable objects not being worn or carried, and it sheds bright light in a 20-foot radius and dim light for an additional 20 feet."
The spell's damage increases by 1d6 for every spell slot above the second.
Breaking Down the Spell's Characteristics
Flaming Sphere is a 2nd level spell, which means it will come into play early in the game for full casters. It has to compete with spells like Heat Metal, Hold Person, Phantasmal Force, Shatter, Spiritual Weapon, etc. These spells are the evolution of first-level spells, with local but lasting effects before they get into 3rd level when the magic starts to blow up entire buildings.
It is a conjuration spell. The magic of this school tends to bring into the battlefield a lasting condition. In some cases, it virtually adds another player. As always, the magic school doesn't have any mechanical implications, but it gives us a glimpse of the game designer's intentions. In this case, the ball of energy is an actual physical thing that moves around the battlefield.
The casting time of one action is standard. Still, it's important to remember when we consider the damage instances of the spell. It will only damage the turn you cast it if you also use your bonus action to ram it. If not, the sphere doesn't do anything the turn you create it, and that's very important if you need your bonus action for anything else.
The 60 feet range is valuable, and it'll be enough to cover the entirety of an indoor location most of the time. However, the same turn you cast it, you can move it 30 feet, so it has an effective range of 90 feet and gets better each turn. It also has a 5 ft diameter, meaning it covers the entire space of another creature in a grid. It's important to consider that the ball of fire is physical and not just a ball of intense heat. It occupies space, so you could theoretically use it to block a 5 feet wide path.
The duration is enough to last an entire combat encounter but remember, it uses concentration. A clever enemy knows when to strike spell casters to break a continual effect. Flaming Sphere can be devastating if it's not dealt with early. With that said, the spell has a good range at the beginning, but you can control it from any distance, so keep running and moving the sphere while you do.
Flaming Sphere has all the usual components. These are its limitations because the spellcaster needs to be very free to cast the spell. Most of the time, these limitations won't come into play, but when it does, you better have an ace up your sleeve.
Breaking Down the Spell's Effect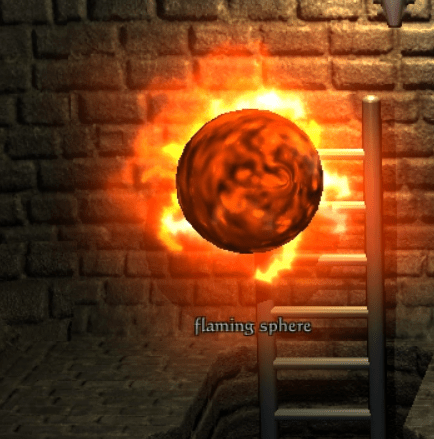 Flaming Sphere has a long description, keen to a conjuration spell. When you add a physical object to the battlefield, it is good to have all its rules clearly laid out. That said, the spell omits some things, and it is good to clarify them.
It's an Object
Firstly, as I said before, the spell creates an object that stays on the battlefield and has all the regular interactions with objects. These are a lot, but to name a few: the sphere can offer half cover, it also blocks the walking path, and it is small or medium, so it can pass through a huge or gargantuan creature.
That said, the spell specifies that the sphere is created in an unoccupied space, so there is no making it around a poor gnome.
Damage Instances
Then, the spell has two instances of damage:
When a creature ends their turn 5 feet from the sphere. The sphere doesn't damage if a creature enters its reach and doesn't make any "attacks of opportunity." For this reason, an intelligent creature able to move can probably avoid this damage always. With that said, the spell becomes outstanding if a creature cannot move or is compelled to stay in place for any reason.
When you ram a creature with a bonus action. This instance of damage is the one that's probably more reliable. In this case, Flaming Sphere is very similar to Spiritual Weapon, one of the best 2nd-level spells in the game. I love weaponizing my bonus actions and adding to my damage output.
No Line of Sight
Something cool about the spell is the fact that it states "an unoccupied space within range." It doesn't specify a line of sight. I read once about a person that created the flaming sphere from a house's outside and moved it around without knowing what they were hitting.
I love pairing this with Arcane Eye because I can scout ahead of the dungeon and then murder every hostile creature without them even knowing where I am. Avoid doing this if you're afraid of destroying anything.
Dexterity Saving Throw
The spell requires a save to pass or take half damage. This is the standard for most fire-based spells. This has clear pros and cons. The pro is that they will always take damage unless the enemy has Evation.
The con is that high dexterity is standard, making most creatures able to pass the save, depending on the DC.
Damage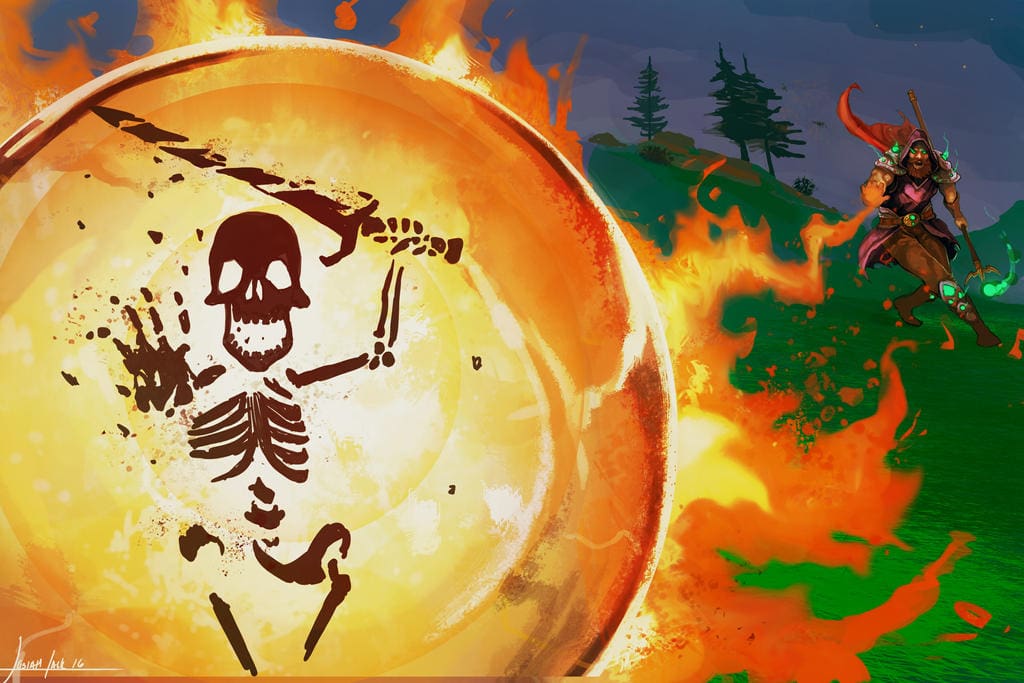 The spell can do more or less damage depending on many factors. The longer the fight lasts and the better the sphere's position according to your enemies, the stronger the spell gets. With that said, there are two things regarding damage:
The base damage is 2d6. This alone is awful. A cantrip can do better at the fifth level. However, the spell is much more complex than others. For example, "Shatter" is a second-level spell with a greater area of effect, more significant damage, and a better damage type. However, you can achieve much better results if you play Flaming Sphere tactically.

The damage type is fire, which is the second most resisted damage type of the game. This is undoubtedly a detriment but depends very much on the campaign. If you plan to go to the Abyss, this spell is useless; however, I recommend packing it up against a Green Dragon and his nature-based minions. With that said, this is a bit of a downside.
The Moving Area of Effect
The spell specifies a 5 ft area. However, the actual area of effect is a 15 feet cube because the damage is done adjacent to the sphere, not directly on its position. This area is small, but the fact that you can move it around makes it much more flexible than a Burning Hands or Ice Knife.
The Sphere's Physical Interaction
If we compare this spell to something like Spiritual Weapon, you can see what happens when you add specifications. Both spells create an object in an occupied space, and you can move it 30 feet to attack an enemy. Nonetheless, Spiritual Weapon doesn't specify how it moves. Flaming Sphere does. It is grounded and needs to jump obstacles to move. You can't throw the spell against flying foes, among other things.
Ignition of Flammable Objects
When a fire-based spell specifies that it ignites flammable objects, the spell can do much more than what is intended. Wooden structures can be prevalent depending on the setting, and plants can also be very vulnerable to ignition. With this in mind, a simple second-level spell could start a wildfire if you're not careful… or don't intend to be.
Lighting
The sphere is magical light you can move around. Therefore, the spell not only serves as a light source but, depending on the kind of darkness you're facing, it could illuminate things a regular torch wouldn't. Nonetheless, remember that having a giant luminescent sphere it's not precisely sneaky.
Who Can Conjure a Flaming Sphere?

Character Options
Firstly, Flaming Sphere is a second-level spell in the Wizard and Druid spell lists. The two D&D classes have different ways of preparing spells, which is a good thing to remember. A Wizard may have access to spells better suited to the party, whereas a Druid can change them daily. Since TCoE came out, Sorcerers also have the spell on their list as an optional rule.
With that said, four subclasses access this spell in distinct ways. The Light Domain Clerics, Alchemists Artificers, and Circle of the Wildfire Druids have this spell constantly prepared, meaning they have it every day for casting. On the other hand, The Celestial Warlock has it added to their spell list so they can choose them when they level up.
The Bard also has the Magical Secrets ability at the tenth level, allowing them to pick any spell from any class. This is probably best used to choose a higher-level spell. Still, the College of Lore Bard can make this choice at the 6th level, allowing them to grab lower-level spells with less opportunity cost.
DM Options
Now for DMs, the only two monsters with Flaming Sphere on their spell lists are Flaming Skulls and Hags in a Coven of Nature. Although it is disappointing that there are few monsters with this spell, DMs can willingly change any monster spell list if they see fit. With that said is good to see what the fantasy this spell tends to cover so that it is thematic to add it to a monster.
There are two "flavors" of this spell. The mad mage (Flaming Skull) and the natural force (Hags of Nature). I like to see the first as a crazy scientist or magician who tries to control something essentially chaotic: Fire. The other one is an aspect of nature, the wildfires. Even if, in the real world, wildfires are seen as bad things, they can be a natural response. Some pine trees evolve to have their seeds pop out when engulfed by fire. A creature can have a Flaming Sphere to spread a needed wildfire inside a rotten forest.
FAQs
Question: Can you interact with Flaming Sphere 5e?
ANSWER: THE SPELL'S DESCRIPTION DOESN'T GIVE ANY WAY OF INTERACTING WITH THE FLAMING SPHERE OTHER THAN BEING MOVED BY THE CASTER IN SPECIFIC WAYS. WITH THIS IN MIND, THE SPELL RELIES ON COMMON SENSE REGARDING HOW YOU INTERACT WITH IT. CAN YOU PUSH A BALL OF FIRE, THEN GO BACK TO AVOID DAMAGE AT THE END OF THE TURN? RULES AS WRITTEN, YES, BUT IT DOESN'T MAKE ANY SENSE THAT YOU DON'T TAKE ANY DAMAGE.
QUESTION: CAN YOU DESTROY A FLAMING SPHERE 5E?
ANSWER: THE ONLY WAY TO DESTROY A MAGICAL EFFECT IS WITH ANOTHER MAGICAL EFFECT. TECHNICALLY YOU COULD THROW A FLAMING SPHERE INSIDE WATER, AND IT WOULD STILL WORK (HALVED DAMAGE). A RULE OF THUMB IS THAT ANY SPELL OF HIGHER LEVEL SHOULD BE ABLE TO PUT DOWN A LOWER LEVEL FLAME. FOR EXAMPLE, FLAMING SPHERE COULD PASS THROW A WATER WALL OF THE SHAPE WATER CANTRIP, BUT NOT A TSUNAMI SPELL.
QUESTION: DOES DARKNESS DISPEL FLAMING SPHERE?
ANSWER: YES, FLAMING SPHERE SHOULD GET COMPLETELY COUNTERED BY DARKNESS. AS STATED IN THE DARKNESS SPELL, "IF ANY OF THIS SPELL'S AREA OVERLAPS WITH AN AREA OF LIGHT CREATED BY A SPELL OF 2ND LEVEL OR LOWER, THE SPELL THAT CREATED THE LIGHT IS DISPELLED.", MEANING IT GETS DISPELLED IF THE DARKNESS COMES IN CONTACT WITH THE 40 FT DIM LIGHT OF THE FLAMING SPHERE.
QUESTION: DOES FLAMING SPHERE FALL DOWN ALONE?
ANSWER: RULES AS WRITTEN, THE ONLY WAY THE FLAMING SPHERE MOVES IS IF THE CASTER USES ITS BONUS ACTION. HOWEVER, THE CLARIFICATION THAT LIMITS HOW HIGH IT CAN JUMP IMPLIES THAT IT'S AFFECTED BY GRAVITY. THEREFORE, I'D RULE THAT IF THE SPHERE IS IN A POSITION WHERE IT FALLS UNLESS THE CASTER CHOOSES TO MOVE IT THE OTHER WAY, IT WILL FALL DOWN AT A SPEED RATE OF THE FALLING RULES.
Conclusion
OK! Now that we've threshed this spell to the core, let's sum it all up and answer: Should I pick this spell? Is it better or worse than its alternatives? Does it fit my character? There are two angles to answer that question: Mechanics and Fantasy.
Mechanical Aspect
As we've seen, Flaming Sphere is a very complex spell. It has many things going on for a second-level spell. Multiple instances of damage, action economy, single target, AoE damage, etc. With that in mind, the role of this spell at first glance may seem like its big brother, "Fireball." However, this is not a damage-dealing spell but a Battlefield control one.
The spell is indeed a big ball of fire moving around burning enemies, which is very damaging. Nonetheless, its main objective is to put a threat on the battlefield that the enemies must always consider. It's more than simply bursting enemies in a round. It's making them choose between the better position or the one without a burning flame on their face.
There is a funny lethal combination at early levels described in this video:
The short version is that combining this spell with anything that locks an enemy in place, like an ally with Sentinel, grants you tons of damage.
The spell is not as universally potent as things like Scorching Ray because it is not a spell to simply eliminate enemies. When you put down a flaming sphere, the battlefield changes, the threat is constant, and the potential damage scales constantly. Furthermore, spells with 1d6 damage tend to scale poorly, but the Flaming Sphere's two damage instances make the spell scaling sweet.
In summary, the spell is as good as you can create a favorable condition for it to work. Using it smartly is the key. It's not worth it if it just does 2d6 damage. You must think it through and cast it early in the fight.
Fantasy Aspect
The next question tends to be overlooked, but it's essential if you want a good gaming experience. What's the fantasy/concept/image this spell tries to fulfill? And furthermore: Does this spell fit my character?
When I look at Flaming Sphere, I imagine a blazing tumbleweed, a ball of fire fueled by some sort of plant-like form. I think of Moses' blazing bramble or the dwarfs throwing down flaming pinecones in The Hobbit. I see uncontrolled, chaotic fire moving around and scaring the life out of my enemies. The better the DM describes the panic faces of the enemies, the funnier the spell gets.
As with all spells, I tend to base my descriptions on the origin of my character's magic. For example, Suppose you're an Alchemist Artificer. In that case, the Flaming Sphere could be an ooze-like creature of blazing red, like the pokemon Muk but made out of lava; If you're a Bard catching this spell from magical secrets, you can make a string of bubbles out of your flute that explodes when they touch the enemy, following strange patterns when they move through the ground; if you're a Dwarf Sorcerer, you can be like Mako from Korra and move around a ball of rocks bursting with heat and lava-like cracks, etc.
I love this spell, and I hope this post helped you do so. Go ahead and play with fire. I grant you approval with a fiery sentiment.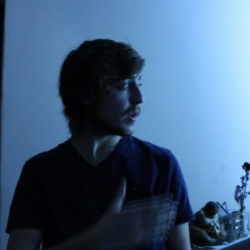 Latest posts by Mariano Marco
(see all)